At some point soon I might stop writing about UMW, but that won't be today. Damn you, UMW! You gotta give the devil it's due, and the students at UMW I have come to know there have ruled. There are many, many  great ones, and I've written about a number of them on the bava over the years. A new first for me was having the unique opportunity to work with Anna Rinko as she was finishing her Freshman year in high school. I taught what I refer to as the Breakfast Club edition of #ds106, a group of ragtag high schoolers destined for greatness 🙂 It was two weeks long and they were a total blast.
Anna was part of that cadre, and she continued to make and share mashup trailers (her newfound passion that summer) with me for the next couple of years. During her senior year of  high school she asked me to be a faculty advisor for her research focused on the psychology of film trailers. Just this past Spring—between receiving her associates degree at a local community college and graduating valedictorian at her high school (in that order!)—she presented her research to a room full of professors at UMW who were exploring their own course movie trailers. She'ss a wunderkind!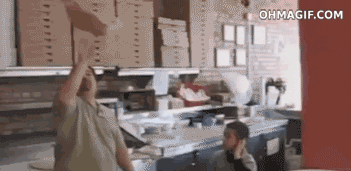 When I learned she was coming to UMW a few months ago I was thrilled. For me she represents exactly the perfect combination of humility, geek, and awesome that I have come to associate with UMW students. Earlier this week Anna and I finally caught up after her first two weeksof university to talk about how things were going. Classes? No problem. Friends? Core group already forming. Entertainment? Watching Xena: Warrior Princess. She then proceeded to school me on the series, detailing creator Robert Tapert's early work with his college roommate Sam Raimi's on Evil Dead. And Raimi's contributions to Xena, etc. Love. It.
She also shared thoughts about Xena, suggesting the show is in many ways as much about Xena's "sidekick" Gabrielle as the main heroine—a character development arc the six seasons trace through the coming of age of this innocent farm girl to her status as war-weary warrior. I'm sold, and Tess and I will be watching this shortly.
So it was very cool to see the recent Great Minds piece "Movie Mania," written by UMW's Erika Spivey, featuring Anna. They highlight her 50 mashup trailers, as well as her remarkable academic achievements to date. Anna is exactly the kind of student this school should be courting. UMW has struggled some with it's identity to say the least, but framing a future around students like Anna is a very, very good idea. And the fact she has made a trailer for humanity titled "Absolute Peace" just highlights her awesome talent and unlimited abilities. I wish you the very best, Anna, and I have no doubt you will make UMW, and everyone you come into contact with there, a bit better and happier. #4life