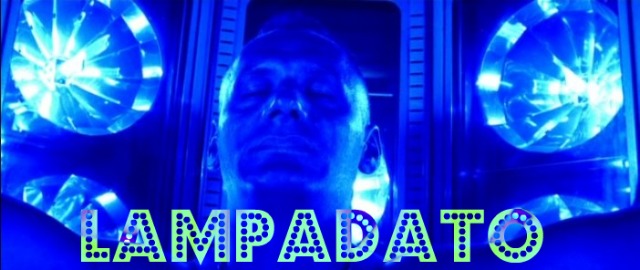 Lampadato is an Italian term meaning a sunlight tan, but the way Alan Levine's translation machine get's at it is much better:

I love this assignment, and it made me go back to an Italian film I watched recently, Gomorrah (2008) , that provides a look at Italy's mafia which is about anything but respect, honor, and family values. One thing that always struck me on my numerous trips to Italy with Antonella over the last ten years was just how reviled the Mafia was by the average Italian.  There was nothing to be romanticized about it, which is so different from the approach taken by US pop culture over the last century. Gomorrah does a pretty good job capturing that sentiment on film and laying bare the social sickness that is the mafia in Italy. What's more, it captures a Mike Leigh-inspired abject neo-realism of Naples that is such a far cry from the ostensibly golden innocence of Italian cinema in the 1950s.
The opening scene highlights a massacre in a tanning salon, and the infrared blue of the opening shot immediately came to mind when I read the above untranslatable word, so I was inspired to reproduce it here. I may do another one of these soon, they are fun and very simple. I pulled the image into Picnik, added the text, and voila!