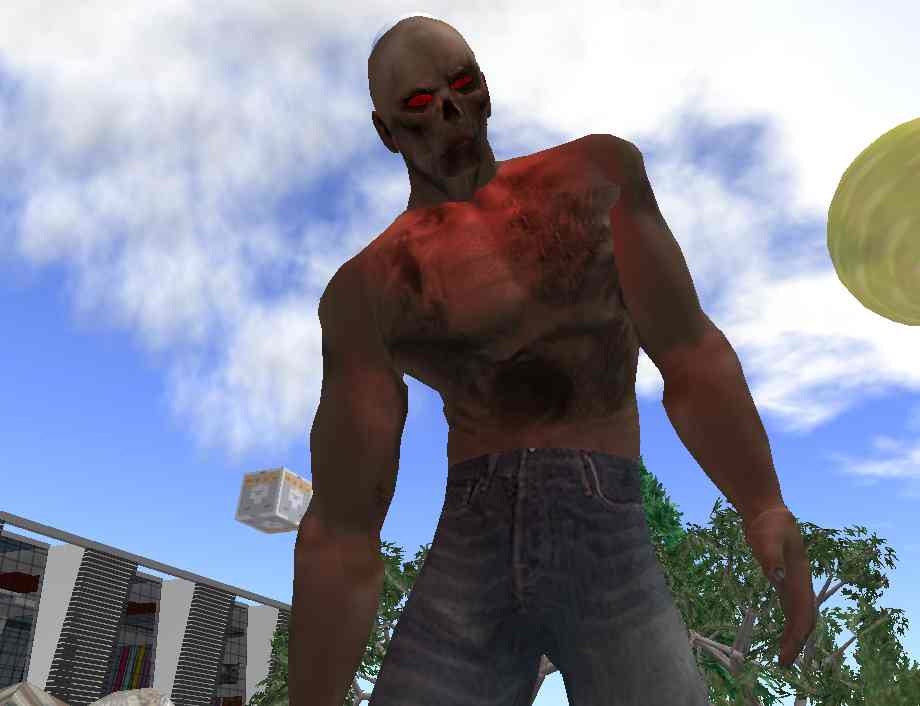 I've never had as much fun delivering a presentation as I did last night while co-presenting "The Revolution Will be Syndicated" with Tom Woodward in Second Life for NMC's Rock the Academy conference.  It was nothing short of a blast, and our guiding logic while preparing this "talk" was to make it fun and use the virtual space to our advantage. I think we came close to accomplishing both of these strategies by getting ourselves some "mother trucking zombies" (to quote Tom), some badass flamethrowers, and a heavy dose of LMS lambasting. Hats off to the NMC crew, in particular Alan, for making this possible. They bent over backwards to meet our requests for zombies, WZD (weapons of zombie destruction),  sun glasses, t-shirts, and even changing Bb advertisements. Moreover, they gave us free reign to go crazy (in spite of their organizations best interests 🙂 ).  I think this presentation was just further evidence for me that given the tools and possibilities of the web, there's no reason to transport the tired means of communicating in these new spaces.
I mean, come on, how can setting the entire audience on fire, literally, ever be considered a failure in presentation terms?
Image by Bionicteaching (click for larger view)

Alan seemed to get a kick out of it, and given his unbelievable presenting prowess, I take that as a great compliment. I've included the video below (an impressive turnaround time indeed), and I hope you enjoy the madness as much as we did, although I think it would be hard to re-capture the moment that we actually experienced in Second Life at that time. And let there be no question that Brian Lamb's (who was sorely missed last night) presentation in Second Life for NMC last Spring was the creative genesis and standard we tried to meet for this performance–not sure we got there, but it is nice to have something to aspire to.