I've been working through the thousands and thousands of posts in my feed reader as a kind of therapy this weekend, and as usual I come across a lot of amazing stuff. One blog that consistently blows my mind is Tom Sutpen's  "If Charles Parker was a Gunslinger, there'd be a whole lot of dead copycats," which features a ton of awesome series like When Legends Gather, Behind the Scenes, Friends and Families, and the Cool Hall of Fame to name just a few. It's amazing stuff, mostly photographs of cool people, but somehow much more than that too.
Anyway, as I was going through the blog this afternoon I came across this "Annals of Crime #117" post. I am reproducing it below: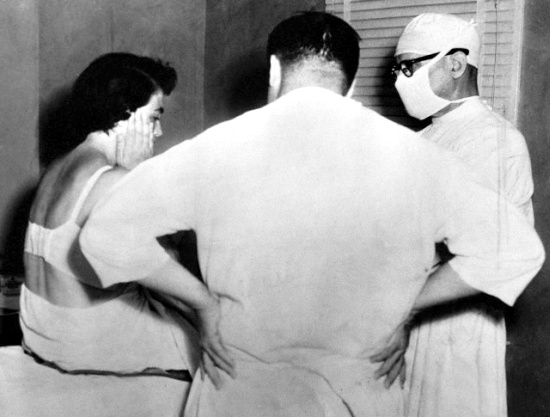 Virginia — An elaborate layout of surgical instruments, narcotic supplies and other medical equipment was seized from a farm house in Faquier County by police who arrested seven persons on charges of operating an abortion ring. Authorities said the ring took in $600,000 a year. Among those arrested was Dr. George T. Strother, surgeon, of Brunswick, Maryland, who is shown at right with a patient. The man with his back to the camera is a doctor who accompanied the police on the raid. (1954)
Crazy, things were so barbaric back in the 1950s when people were forced to create makeshift, unsafe clinics because choice was not a recognized choice. I'm so glad we live half a century later in 2013—an enlightened age of…. Attorney General Ken Cuchinelli urging Virginia's Board of Health to enforce new rules for abortion clinics that could effectively close the 20 operating clinics in the state. The rules will place requirements on these clinics that will force them to do costly upgrades and renovations that could potentially force them out of business. According to the New York Times article linked to above:
…abortion rights groups called the building requirements a thinly disguised attempt to cripple or bankrupt the state's 20 private abortion clinics and said that some clinics may be forced to close.

"We're being targeted because there is a political difference of opinion about what a woman deserves for her health care," said Rosemary Codding, director of patient services and co-owner of the Falls Church Healthcare Center, which performs about 1,200 abortions a year along with gynecological services.
There is no question Cuchinelli is using the Virginia Board of Health to play politics with abortion, and just think what's possible if he is elected Governor this Fall. Man, I can't get out of Virginia fast enough.