So over the last six months I have been working with Rod Smith at Washington Lee University on bringing the literary journal Shenandoah entirely online. It is a real privilege to work on this project because Shenandoah has a very rich tradition representing Southern literature. What's more, it was started by none other that Virginia's own Tom Wolfe while an undergraduate at Washington and Lee University. And when I first went to the Shenandoah's office back in September I had just finished reading Cormac McCarthy's Blood Meridian, and it was amazing to talk with Rod about McCarthy's vision, and his quick wit and cutting insights got me excited again. Excited about great writing, excited about Southern literature (Faulkner remains my godhead), and feeling the future of publishing has never been greater, and resources like Shenandoah available to everyone for free online was never cooler.
So I talked to Rod's students last semester about publishing, the online revolution, the amazing thing that is Wikipedia, along with the state of reading and sharing online.
After that I went back to Virginia and I thought about what it would me to bring Shenandoah online. I got feedback from the UMW students, and modeled out a means to do this in WordPress Multi-Site. After looking at a whole series of literary journals online, I was wondering what we could possibly add to the field. To be entirely honest there are not too many inspiring literary journals online, so we have n opportunity with Shenandoah to think about what the next stage of online literary journals might look like. One think I was thinking is allow for each issue online to look and feel differently, which in turn less me to a distributed idea of sites. A main site which acts as the information headquarters, announcements, archival work, admin info, submission stuff, and features the the most recent issue as well. The following image is far from done, and the site is not going live officially until October, but I am going to be blogging its development for the next several months. I'll be tracking my changes, goals, and ideas here, and it will be my first kinda open development of a site.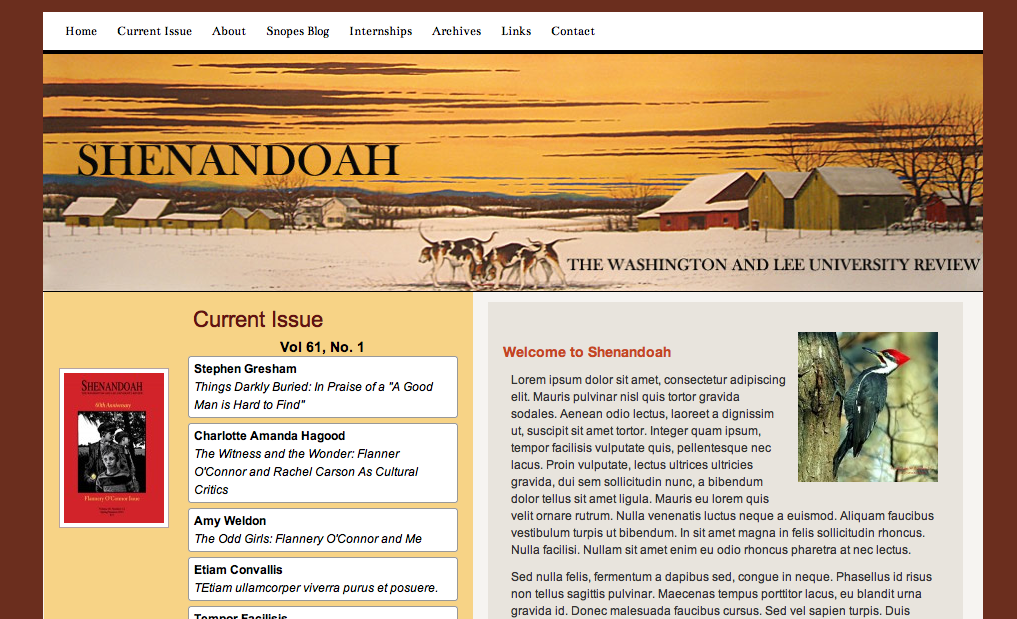 From there we can actually use WordPress multi-site to build out sites for every new issue as we need them. This not only allows the customization of background colors, font, and header images (even entire stylesheets) for each and every issue, it also provides a mean of treating each issue as it's own kind of entity with it's unique URL, it also distributes the content across the databases, while at same time creating a centralized resource for all issues with the tags blog (which I will talk about in another blog post when I deal with accessing the archives and searching and linking authors and works between and amongst issues). In other words, a loosely structured series of issues tied together by an admin bar, syndication, and a sense of a distinct immateriality between issues. What I am hoping, is that not only will we see a new design for each issue, but that the design online somehow speaks to and builds upon the issue itself. An attempt to embody and represent the theme of an given in the online space. Not just occupying the online, but rather inhabiting it, assimilating it, becoming part of it. And the fact that it is free and open using open source tools, I believe there is a lot of freedom in this regards, and I applaud the faith, while at times frustrating because of my erratic working style and tenuous promises, I think we are really on to something.
After sitting on my ideas and having don all I could before going to Italy, I came back, locked in to this project, and asked Martha Burtis for advice and help in actually making this idea for distributed model in this journal actually look good, be easily managed by anyone, and enable them to redesign and change the look and feel easily (that is key here and why we went with WordPress, they have no regular tech folks at Shenandoah). What Martha helped me come up with is for me one of the more impressive attempts to frame a journal online. The actual issue is a model of simplicity and economy for the first issue, and I love the table of content and fill paged articles that lead off from them. What's more, the way in which the issue site snaps to focus really makes the reason why you are there, namely to read, that much more apparent. No distractions, no ads, no nonsense, just literature, the best the South has to offer. And while just the first iteration, the issue site is something I want to be able to think and build a few more variations upon.
What's more, Rod put me in touch with William Dunlap—who is kind of a realist surrealist in this oddly beautiful way—and his works really set an amazing tone for the journal. The "Unholy Trinity" image on the Snopes blog is a favorite of mine. His artwork really sets an amazing tone for the whole site—and again the aesthetic here becomes part and parcel of the site and the experience, why could each issue feature the design and art of yet another artist as part of the form, and not designed to take away from the literature, but rather enhance the experience of reading it online.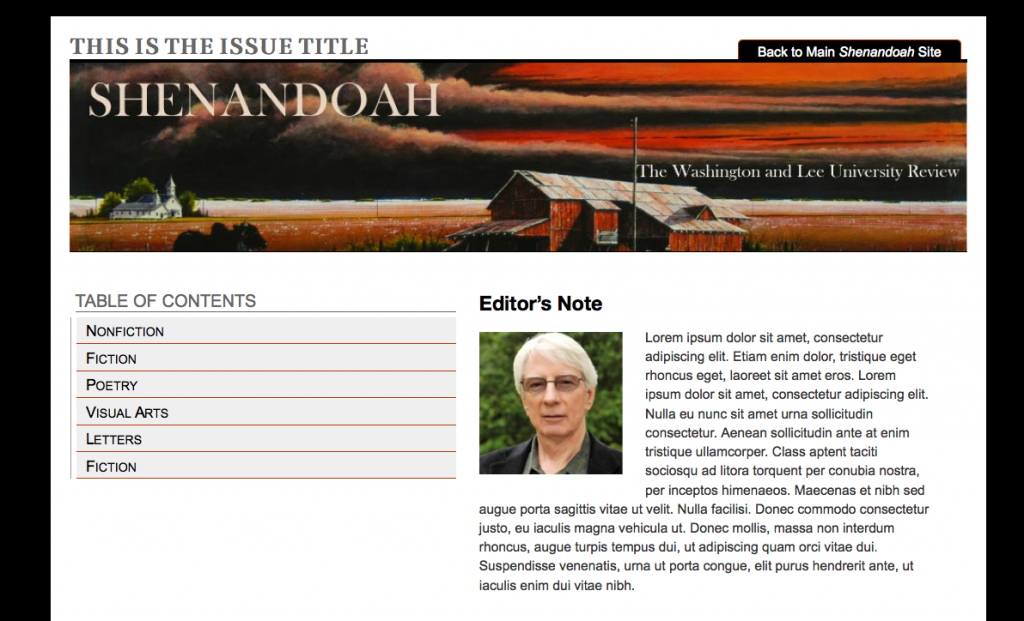 But I still have some work to do, and I will be using this space as a push to do, as well as a way to answer questions of the interns who are working diligently with Rod over at Washington Lee University. So below is a bit of question and answer between myself and the interns.
___________________________________________
These are from Catherine:
CA: What will the "In this Issue" paragraph on the home page say? (If it's kind of a basic introduction to the issue, but is different from the "Editor's Note," maybe it should also appear on the "Current Issue" page.)
JG: Actually in this issue will have a list of all the contributors for this issue. An important detail here as well is that the five or six authors on the sidebar will be rotating randomly. And this was important for Rod to avoid the impression of featuring just a few of the writers. They all were accepted and published based on the merits of the work, not necessarily the name. Something I respect and think sets an excellent tone for the journal. it will not appear on the Current Issue because he Table of Contents will have this.
CA I really like the drop down table of contents on the "Current Issue" page–also, I like that it doesn't drop down automatically when you scroll your mouse over it, but instead you have to click–that way it doesn't get annoying!
JG: That is all martha Burtis designing, and I agree, it is very, very slick. And haven't seen anything like it yet–I love it too.
CA: It seems kind of strange that the Snopes Blog page has the same toolbar (Home, Current Issue, About, etc.) as the other pages on the website, but it's placed below the picture instead of at the top of the page…it seems kind of awkward and inconsistent, and I wonder if it might be better to have the toolbar at the top of the page and the "Snopes" title lower?
JG: Yeah, we have to fix that. Adding it to the list below.
CA: I noticed a search bar on the Snopes Blog page. Will there also be a search bar for the rest of the website, that can be used to search the current issue or archived issues? I've seen this sort of thing on some other literary journals' sites, and it's convenient if you're looking for a certain author or something.
JG: Yeah, I am working on this, there will be an issue searchbar and also an archives search bar across all issues.
CA: Anyway, these are just some suggestions; hopefully they are helpful. Overall, I think the website is looking good, and I look forward to seeing it when it's all finished!
JG: Thanks, I'm excited too. And it will only get sharper. But your ongoing advice is essential.
These comments are from Mary:
MOK: Because the site looks so great, it was difficult to come up with anything!
JG: Let me know how much I owe you.
MOK: However, one question I have pertains to the the Snopes Blog section's different format. I really loved the format (when I say format, I'm referring to the placement of the tabs at the bottom of the illustration) — maybe even more so than the rest of the site's. But, I was wondering why you decided to make this section different than the rest? I think that could be a little confusing to the readers. It might be better to keep the same format/illustration with each section to maintain consistency.
JG: The idea was to really give the blog its own identity, separate it out from the main page. In fact it is a totally distinct site and can be seen and designed as such. it also allows you to run plugins there that you don't run on other sites/spaces.
MOK: My other comment concerns the photographs on the home page. I found it a little off-putting to mix an illustration with a photograph so closely together. I understand this is inescapable with a photographs of authors/editors, but do you think it would look potentially better if there were a painting of a woodpecker, rather than a photograph?
JG: Will change the other images to Dunlap pictures and we are still figuring out the Woodpecker.
MOK: Despite these small recommendations, I think the site still looks extremely impressive!
JG: I'm a big fan of yours too, and will be sure to buy a first printing of your forthcoming work of extreme brilliance.
These comments are from Laura:
LP: It is wonderful to see the site finally up.
JG: For me too, I was beginning to worry. So much work, so much pressure, so much–you have no idea!!!!
LP: I have a few suggestions.
JG: I was afraid of that.
LP: First, the text within the site is almost entirely in Latin–I don't know if you are aware of this or not.
JG: I don;t read latin so I had no idea, I mainly speak it informally at home.
LP: I think that there should be more pictures–for instance, under the "Internships" section, you could post pictures and short bios of the current interns. Furthermore, while the background color–brown–goes with the current farming photo (which I love, by the way), it is not very eye-catching. I think that you do not need a background; rather, you could simply expand the existing white space and perhaps add a large background photo in muted colors. Doing so will give the website a more modern (yet still traditional) look.
JG: Good advice, I am going to work on those pages shortly, and one thing I was talking with Rod about is giving the interns access to and training on using the site so you all can start playing with making these changes. What's more, you'll realize how easy it is to use. Sound good?
LP: If you would like me to look at the site again once it has been fully updated, please let me know–I would be more than happy to help out in any way. I hope things in the office are going well!
JG: Thanks Laura, i will be calling on you all regularly now. And once you get access, you can actually experiment with what you like.
These comments are from Tim
TA: I didn't have many comments on the site, but I did want to know how finalized the front page is.
JG: Not finalized at all.
TA: Because the only suggestions we had on that front was possibly integrating the fonts (so that they would be the same type throughout), removing the blank space on the left side, and tightening some of the gaps between the text. Some things are hard to tell because there isn't any information actually up yet (other than the fill-on scrambled Latin).
JG: Yeah, that is all going to be attended to anon, right now we are sealing up the architecture and seeing how seamless the management and publishing can be for folks who use this model.
TA: We were comparing our website to Blackbird in class, and the main difference between Blackbird and Shenandoah is that the Blackbird site really flows well–there are no periodic gaps on their website, and there is a wealth of information and links to click on the front page without overwhelming the reader. But again, I'm not sure how close to the final product the current Shenandoah website currently is.
JG: Yeah, I am trying to avoid Blackbird as a model more generally interms of aesthetic and architecture. It is a bit text heavy and I am sure they are working on an overhaul. Fact is, for Blackbird every issue is the same look, it has no variety and that doesn't allow the thing, the journal to speak. it doesn't inhabit this space, it is simply in it. What we are working for here is an ecosystem of writing and ideas—a space that understands the new medium in occupies as part and parcel of the art: the art of the representation and interaction. .
And now, here are the things I need to do for next Tuesday:
* Blog for my process on both the Snopes blog and my own
*random image headers
* Dunlap art distributed 20 images
* Woodpecker (Icon and bullet points–>)
* PC Internet Explorer 7 and 8
* Gallery and what's new with WIlliam Dunlap images
* O'Connor image needs to be changed Dunlap
* Random Quote generator
* menu bar for main page of the individual issue
* Fall 2011 text near TOC