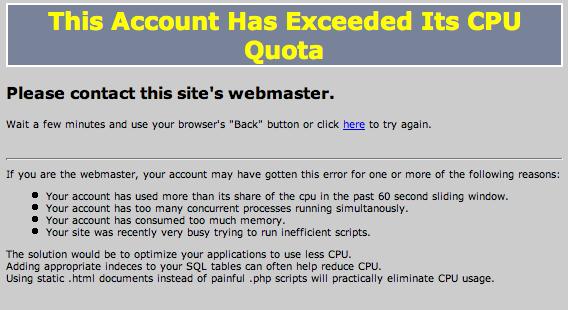 I am officially taking bavatuesdays off
Bluehost
starting this weekend, so there may be some extended downtime on the bava. All day today I have been unable to access this blog regularly because of CPU errors and, quite frankly, I'm ready to take the bava off of my experimental hosting account I got through UMW almost two years ago and bring it into the quiver of personal sites on my own hosting account through
Hosting Co-operative
. I have far less storage space and band-width, but far more reliable service, trouble-shooting, and flexibility. Additionally, the cat who started the Co-op back in 2003 is also the same genius,
Zach Davis
, who turned me on to WordPress. So, I'm sticking with the people, applications, and services that have proven themselves in this rapidly morphing environment. Additionally, I can finally pay my outstanding bill and pimp out my new account with some more space and maybe even a WPMu test bed with dynamic subdomains of my very own 🙂
Don't get me wrong, Bluehost is fine for a few experiments, but there is a time when even Mary Washington is going to have to consider another model with which to get at hosting this stuff more efficiently and effectively. Experimental hosting accounts always made a lot of sense to me, but over the last two years these accounts have been doing a lot more than experiments, they been hosting anywhere from 15 to 50 online applications each, and times that by twenty Bluehost accounts and you've got yourself a royal mess. Add to that the fact that as of late I have been losing my patience with these mega-hosting services that promise you the world in terms of storage, band-width, etc. and then bitch and moan about running a few WordPress scripts. See ya Bluehost.