Today was the first day of registration for Summer classes, and I am planning on teaching ds106 in the first five-week session (May 20th through June 18th). The class filled up the allotted 15 spots before noon, and I started getting emails from students wanting to force add. I already have close to ten on a waiting list, and I have asked the registrar to double the amount of seats. What's more, I started picking on the #emboilers (Freshman who took the Hardboiled course) to take ds106. Sarah Clay, who spends a lot of time on twitter being very emo, happened to tweet about being upset about missing yoga and I joked with her about taking ds106. I like talking smack to former students on Twitter, it is almost becoming a pastime.
But as you can tell my students dish it back as well, referring to me as Groom, and generally asking the essential question: "What's in it for me?" I mean this is the most valid question in the word is you are paying to take a class some professor you had is stalking you on twitter to take. What is in it for her? I know she is creative and has fun experimenting, I know she'll do good work (which is ultimately good for me too), and I think she will lock into some of the creative experimentations across the media.
On top of the question "What's in it for me?" which is pretty hard to answer, the question of whether it will make her hate her life is clear: YES!  But that question in the middle "how much does it cost?" looms large.
I don't need to increase enrollment, I want to. I'm finding more people enrolled in ds106, to a point, can be better for the experience. I found that to be the case last Spring, and I am ready to experiment with that even more this Summer. But, it's not cheap, at least for the students (as an adjunct I am very cheap labor¹) $1000 is a lot of money to ask someone to come "have fun." Why should she have to pay to have fun? That is a huge question, especially if they can get it for free and still have the credits to finish college.
But, there are requirements that might entice….although you quickly realize how much the pursuit of a degree holds the whole thing together.
Wherein I correct an accounting error…
Or you can just audit it, which allows you to get  sense of the class, the professor, what you're getting , and answer the questions "is it worth the money?" "Will it make her life hell?" and "What's in it for her?"

The idea of ds106 being full is more and more puzzling to me, part of the design is that it can;t fill in that way. And while there is a definite limit to how much I can do, it doesn't stop at 15. And, in my mind, it doesn't cap out at 30 given how amazing the framework for the class has become. I did 23 in the Summer of Oblivion.
That is where the money goes, towards the credit! The idea of getting that degree, there is the rub, and she doesn't even need it!
"A fun thing to keep me thinking," maybe she is just being nice on Twitter (and probably so) but what if we had experiences built into the community for this? Why aren't we designing experiences to create ways to keep our students engaged in a variety of ways, over the Summer and beyond?  I wonder if we aren't missing something here, something I'm convinced a model like ds106 at a residential, liberal arts college gets at some of the issues of teaching, online. Rather than following suit with the rest of the social media douche bag lemmings in search of a pseudo-topical blog post that ignores the potentially horrendous impact their misguided philosophy about education they unknowing picked up from a media embedded Pearson advertisement does to the student experience, faculty jobs, and the noble, public service of educating a nation of free thinkers. This is still an experience both countries and people who fund them should want to pay for (even if it is too much money, but more on that soon).
Tuition inflation is nothing new, but this conversation pushed me to check out the exact tuition at UMW as of now. More than six times as much as I paid 20 years ago for a state university in California (as a side note UCLA is now $12,686 for tuition a year (almost nine times what it was 20 years ago).
And Andrew Carle found a neat inflation calculator that reminded me that the cost of state university has outpaced inflation of everything else by four times when comparing prices in 1990 to 2012.  Insane.
And Timmyboy seals it with a pointer to this awesome stat from Luke Walter I missed…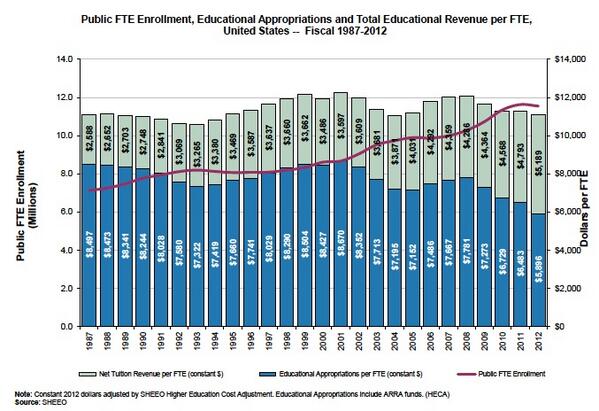 Indeed!
Mike Caulfield has written about this extensively and far more intelligently than me, but few others I read have. What we are doing to shift the bulk of the costs for higher education on the student is shameful, I don't disagree with folks on that point, but how we are going to fix it is not through venture-funded corporations filling in the "gaps." We have to start  making it affordable (which is the wedge venture-capital driven MOOCs from Silicon Valley is using with the San Jose State Experiment being the most compelling example), keep the public funding coming for education, and foster the idea of college as a space to experiment and create rather than endlessly labor to pay the bills for an education that is starting to live up to the Wal-Mart brand of quality we are trying to fight.
________________________________
1. Given I want to take on more students and work I should get paid for twice the labor, right? I believe it is only fair, but that's not what I am focusing on here because as it stands now I am not allowed to teach more than one section, so I have to get creative here because I want to see what's possible, and that can't happen in a system that ossifies the idea of labor.