So if you have a WordPress.com blog, you can do some of your blogging from within Facebook with the new WordPress.com Facebook App designed by Joseph Scott.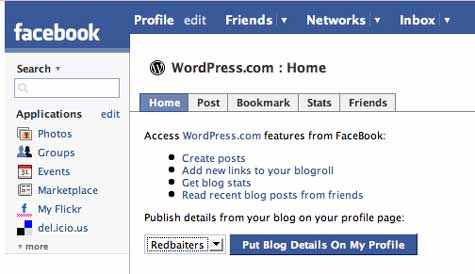 In this app you'll find the core blog features you'd expect: publishing posts, adding bookmarks and viewing stats. Beyond that we've taken advantage of the social network information that Facebook provides, with a Friends feature that shows you the most recent WordPress.com blog post from each of your Facebook friends that have added the app. Posts you make within the app show up on your WordPress blog here, and vice versa.
Hmmm, so any way to get this functionality for our independently hosted WordPress and WPMu installations?