I have set up a WordPress Multi-User test of CommentPress, a theme brought to you by the fine folks at The Future of the Book (in particular Bob Stein, Jessie Wilbur, and Eddie Tejada). This theme is absolutely sick (a good thing, mind you) because it allows you to literally publish a book online using the blogging software WordPress. But more importantly, it builds in some revolutionary nested comment functionality that re-imagines the space wherein you can have threaded conversations alongside the text to brilliantly capture the actual unfolding of a stream of textual ideas in-line. Very impressive stuff, and I highly recommend you try it out yourself.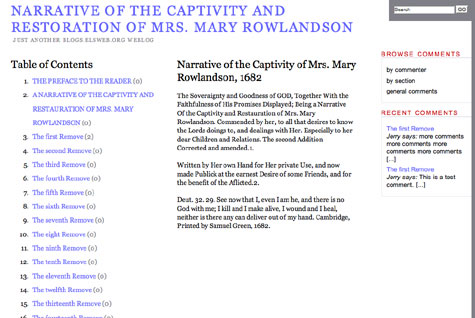 As a test on a WordPress Multi-User site, I published Mary Rowlandson's Narrative of the Captivity of Mrs. Mary Rowlandson, 1682 here (it woks like a champ). I was able to cut and paste this public domain text quite easily because the Early Americas Digital Archive has their texts encoded in the TEI (Text Encoded Initiative) XML vocabulary. Now Patrick will have a lot more to say about how this may open up some amazing possibilities for further slicing and dicing of a text formatted in such a way.
In short, I can think of a million and one ways this may prove revolutionary for how we read, discuss, and comment upon texts for a class. Think of the possibilities for recording and sharing marginalia; collaboratively annotating a text as a class; threaded discussion about book passages; tracking one's genesis for paper; offering communal books for different classes and students to works through and comment on in a distributed fashion; and the list goes on and on. The way I would teach an Early American literature class would undoubtedly change forever given the xml formatted texts and this phenomenal theme which opens up so much teaching and learning goodness.
Thanks to the heads up very early on from Brian Lamb (who saw this baby coming months ago), as well as Martha and Matt (of Tattered Coat fame) for the links via del.icio.us and e-mail, you all rule the Web 2.0 school!