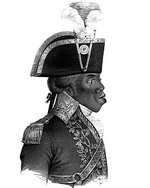 I have been been looking for resources on the relationship between Americas' first war (the Tripolitan War from 1801-1805) in North Africa and the Haitian revolution. While I am still searching for the historical connection, I found a very interesting 'academic' project using a wiki and blog to open up the historical narrative of the Haitian revolution to a larger online community. The Louverture Project understands its marriage of the narrative of this important revolution for liberation with technology as follows:
One proposed feature of The Louverture Project is the development of a historical narrative to provide context for the encyclopedic collection of facts on the site. The Revolution Will Be Forgotten is a work in progress, a popular history of the events of 1791-1804 and their effects on the world at large. Readers of the online narrative will have the freedom to read the text on its own, or to explore the ideas, concepts, and facts referenced in the text in varying levels of detail. Of course, TLP will also function as a fully-searchable online resource for a wide range of Haiti-related historical material.

Though we're starting out with a focus on the Revolutionary Period of Haitian history, it's not easy to tell exactly when, or if, the effects of that revolution ended. Therefore, the scope of the site is bound to expand as more contributors come online. Be bold in adding to and editing the site. Let it be l'ouverture "the opening" to knowledge and understanding of a fascinating, important, and too-long ignored piece of world history.
The intersection of popular histories and social networking technologies seems to be a truly important academic and cultural development that takes the wikipedia model and focuses it upon an in-depth examination of specific moments of, in this case, history (but why not music, literature, art, biology, chemistry, etc.?). The use of the wiki, and other social networking applications, as a repository for the inscription of a public memory that is neither unilateral or complete suggests an ongoing dialogue that depends upon community involvement and a willingness to explore and engage the intellectual and cultural moments that shape our worldview. Such a project, while it is certainly exposing itself to potential "errors", opens up the composition of cultural memories to the diverse authorship of communities. The Louverture Project envisions the possibilities of technology to expand the horizons of understanding of cultural moments, practices, etc. both within and outside of institutional models.