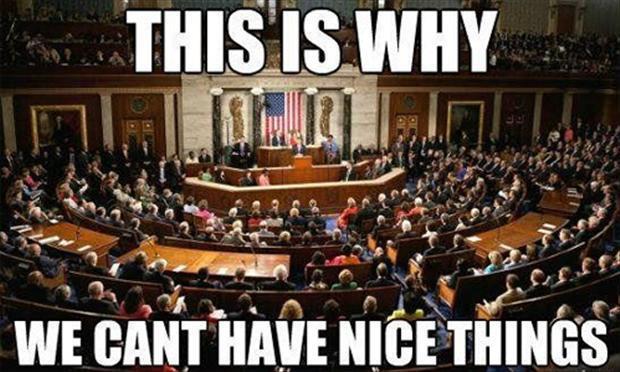 During my time at OpenVA one of the things I really wanted to see happen was various institutions around the state working together to share technical infrastructure. How could we think about scaling something like Domain of One's Own for the VCCS? -or share that model with Virginia Tech or Northern Virginia Community College? Even beyond that, how could we rethink sharing machine images of various tools and applications these schools currently use to give all Virginia schools greater access to a diversity of educational technologies. A clearing house for educational technologies that might be inspired by and built on the model of something like AWS.
I moved on from OpenVA and UMW,  but it was pretty clear this was never really going to come to fruition in Virginia for a few reasons:
1) Virginia is not a system, there is no way to organize something like this centrally beyond good will.
2) OpenVA was from the beginning a political committee, and it increasingly became more so. And while there's a lot of rhetoric about innovation and experimentation in politics, at the end of the day given a choice between supporting an experimental, multi-institution tech incubator and saving students money on free textbooks, the latter becomes a pretty easy choice. Particularly in a climate where tuition continues to rise due to lack of state funding.¹
3)  And if you are not saving students money, then your putting it in the pockets of corporations. There is a really bad precedent of the colossal waste possible when the state funds a collaborative tech initiative at universities in Virginia, it's called 4VA:
The presidents of George Mason University, James Madison University, the University of Virginia, and Virginia Polytechnic Institute and State University organized 4-VA in 2010. Each university contributed funding to establish the 4-VA Office and hire staff. Mr. John Chambers, CEO of Cisco Systems, Inc., supported the presidents' vision and sponsored a great deal of technology to seed the early projects. Virginia's legislature continues to provide project funding. In late 2014, Old Dominion University became the newest member of  4-VA.
So, four universities—more recently a fifth in ODU–funded a series of CISCO video conferencing rooms at JMU, UVA, Virginia Tech, and GMU. This was Governor McDonald's vision (remember that crook?) of HE and the corporate world working together. CISCO provided the equipment, and universities paid for staff and upkeep of that equipment. In 2014-2015 the state funded 4VA at the tune of  $3.6 million a year—60% of which went towards funding the infrastructure of the over-engineered video presence rooms at four of the biggest, wealthiest universities in the state.
In terms of impact. Video conferencing? Really? The program switched up to start providing grants and course redesigns, but even that was crazy. 15 course redesigns in the 2014-2015 academic year at the tune of $500,000, or $33,000 for each course redesign—those are almost MOOC-like costs 🙂 In short, 4VA was an brilliant example of how corporate and state collaborations ultimately become a drain on the taxpayer, and as much as $2 million in infrastructure costs squandered on technology you could reproduce well-enough with virtually free applications like Google Hangouts, Skype, or even appear.in. Hell, pay the couple of hundred dollars and get Zoom. This program has been funded since 2010, and at the 2014-2015 funding rate it would have cost the Virginia tax payers upwards of  $20 million dollars. What's the return on investment? $2 million dollars in grants? Well, then you are only 18 million in the hole 🙂 What a joke.
This is why we can't have nice things in Virginia EdTech.
But I digress, this post was about that original vision of sharing actually useful infrastructure and technology tools across the Virginia colleges and universities, and it turns out our neighbors to the south, North Carolina's state university system, is trying something like this on for size. According to this article on Medium by Matthew Rascoff, the project lead for the University of North Carolina System, the UNC Learning Technology Commons…
…is a system-wide effort to curate an annotated catalogue of digital learning products available for accelerated purchase by the 20,000 faculty members of the UNC system, and to build a community of educators who share (anonymized, aggregated) learning outcomes and user experiences with those products.
So, vendors could go through what they promise is a painless process of applying to add their product to this catalogue of available tools, and have faculty write reviews and share uses of how they are using the tools. The platform this process happens in, Learning Trails, was compared to Trip Advisor for edtech technologies in this EDuSurge article –effectively a technology purchasing commons for the North Carolina system. In fact, a tool to make the purchasing of edtech more seamless across the state, enabling the North Carolina University system to leverage their aggregate buying power to push down costs, which helps smaller campuses who may not have the numbers to negotiate a better deal. Dealing with UMW's purchasing when trying to build a Domain of One's Own was a lesson in how crazy that process can be, and streamlining that is more than welcome.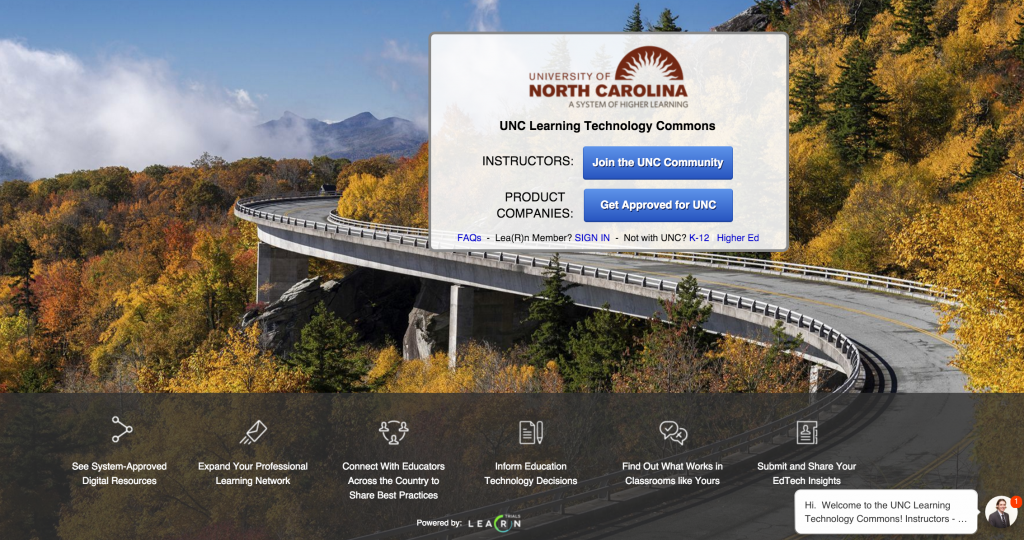 One of the small victories Tim and I had as we were walking out the door of UMW was to finally get a campus contract for UMW with Amazon's AWS, something the Virginia's Governor's office was interested in given they were exploring vehicles for purchasing AWS and were looking at our contract as vehicle for just that.² UNC Learning Technology Commons seems to be aiming to make that process more discoverable and streamlined, and that is pretty cool if they succeed. It would be nice if AWS was a service any school in North Carolina could access through such a system using a pre-negotiated rate and set of terms and conditions, which would enable the state of North Carolina to define more broadly the relationship they have with vendors around increasingly important questions like data privacy for students and faculty.
The idea of a marketplace for purchasing in edtech is not necessarily the sexiest idea when it comes to innovation and experimentation on the surface, but it could be a powerful mechanism for the faculty in the North Carolina system to create connections and share resources around the various tools they are using, as well as the why and how. What's more, it could provide simple ways to spin up new infrastructures, both big and small, across the state to provide a more heterogenous ecosystem for edtech options. Interesting stuff, I might just have to go and add Reclaim Hosting to the UNC Technology Learning Commons because North Carolina needs us more than they know!!!
________________________________
It's hard to compete with cost saving arguments of OERs in the political arena. This approach has gained significant political capital because politicians can say "we're saving students money on textbooks" while at the same time cutting funding for state schools. Folks will argue these are two separate issues, but I find that hard to swallow. Content truly is infrastructure for a contingent workforce 🙂
You can have a rider on these purchasing contracts that enable other Virginia agencies to use this contract to get a similar set of terms and conditions that have already been vetted. In effect, it vets the vendor for the system, but there is no way to know this in Virginia unless you study the dark art of purchasing bureaucracy.