So It's been more than a month that I've been working completely remotely for Reclaim Hosting. I'm still in the incredulous stages of the transition, and having moved to Italy makes it a bit more surreal. I feel like both a tourist and a resident at once, given how new the idea of living here feels (my recent Tweets provide a play-by-play), but also how embedded I am in Antonella's community of friends and family. It hasn't sucked just yet, but the fact that I have been constantly traveling for the last two months means I also haven't had the opportunity to settle in. But given I have a clean slate for the foreseeable future, that is beginning to change.
The path to my mother-in-laws's house. pic.twitter.com/Dx5rSNQJTO

— Jim Groom (@jimgroom) November 3, 2015
One thing that has gone pretty smoothly is running Reclaim Hosting remotely. We have a pretty solid distributed workflow. There are four of us now, Tim and I are full time and Lauren Brumfield and Joe McMahon (O.G. UMW at Reclaim) are part time. I think we have done a pretty phenomenal job staying ahead of our growth this semester. We went from 6 institutions as of spring to 25 this fall, and I don't think our service, response time, or presence has hiccuped a bit. We've been scaling our growth gracefully, and that's a relief given that was one of the worries Tim and I had coming into the fall. But having hired Lauren mid-summer, who has been on point 20 hours a week, has been a huge part of that success. She has been killing it for us. And just a few weeks ago Joe has been brought on for more focused server administration and support. That said, everyone at Reclaim answers tickets as they come in. We are first and foremost premised on helping people (predominantly faculty and students) wrap their head around web hosting and solving issues. So this remains our priority. And you'd be amazed how thankful folks are that we actually respond helpfully so quickly.
I swear Tim @ReclaimHosting must never sleep! Any questions or issues always answered lightening fast! ?? — Kate H. Moore (@HistoricallyUs) November 3, 2015
As for the specifics, Slack acts as our internal catch-all for direct messages, support, check-ins, ideas, help, etc. (those are all channels). We also use Slack as an aggregator of our other systems like WHMCS (client management for our shared hosting servers), Intercom (our support ticketing system), blogs we follow, Asana (for project management), and Giphy (purely for entertainment).  Slack has become the glue, and it's working quite well. What's more, it is a model of an API driven architecture of syndication. Tim told me the other day he turned off all email notifications from Intercom (our support/ticket system) and is only using Slack. I tried it out as well, and it is absolutely liberating. My email inbox feels lighter (no UMW or Reclaim emails!), while then Slack support channel has become the goto for tickets.
Speaking of support, Intercom continues to be the workhorse for our day-to-day. This application allows us to respond to tickets inline for folks in their CPanel dashboard, as well as via email. We can have an ongoing conversations, and they are viewable by all of us at Reclaim. So unlike email, we have a centralized space to search these users and conversations for necessary contexts.Intercom has proven an indispensable tool for the distributed work we are doing. We can also share comments, questions, and thoughts with each other within a ticket using the notes field. So, if I have a question for Lauren or Tim, I can tag them in a note, and get their feedback and help inline. Another feature to help stay the steady diet of email.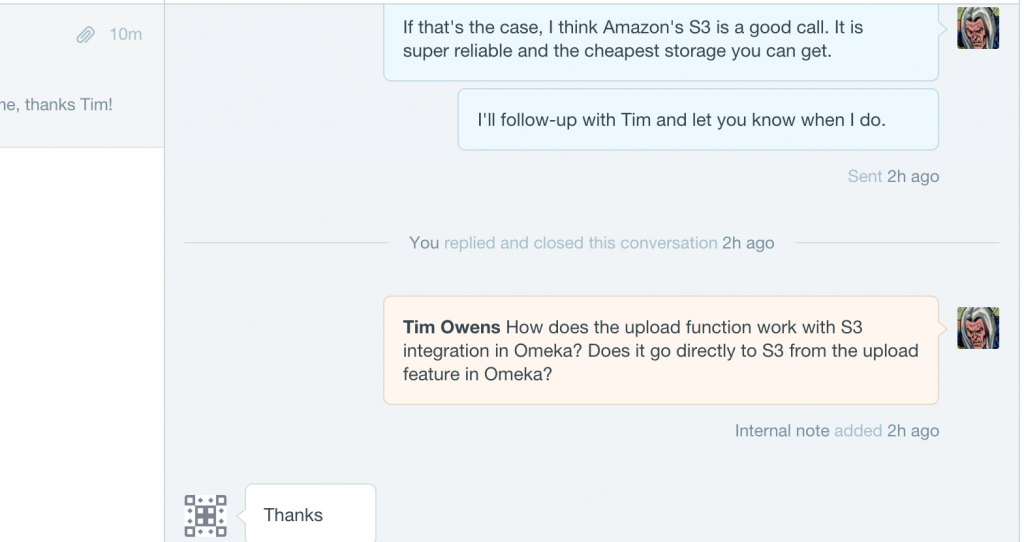 The other nice feature is schedule. I have a pretty wide open schedule, and I am untethered to an office. Finally locking in on a cellphone was the last piece of this. I can be anywhere in the city and still respond to tickets and tether to my laptop if need be. While I was traveling back from Spain and we were having server issues I was responding to tickets on the train leaving Bologna. The new working situation feels futuristic to me. I know there are many folks who have been working like this for years, even decades, but this is pretty new for me. I've been embedded in office culture for 20 years, and the break away from it is pretty radical and liberating. I'm sure there will be some things I'll miss (the lunches, banter, focused time, etc.), but I have a feeling there are so many more I won't—and the quality of life in terms of family here in Italy has been awesome.
Miles, Tess, Gamera, and @ator during our three hour lunch (action figures sold separately). pic.twitter.com/EWwQWTmo7K

— Jim Groom (@jimgroom) October 25, 2015
I do still want those focused, communal work gatherings wherein we lock-in around a project, and I think that will still be possible. Like the folks at WordPress, we can try and arrange a couple of Reclaim trips during the year to a destination we agree upon so we can lock-in together for both play and work. No more than a week, and no more than once or twice a year. I'm starting to get used to the idea of a distributed workplace, and I'm really starting to dig it. Life is just too short to be stuck in an office, no matter how awesome you decorate it!