I have been experimenting with yet a few more possibilities on our WordPress Multi-User installation at UMW Blogs. One of which I am particularly excited about, so I'll start there.
WPMu Comment Tracking and Display
This plugin (available on WPMUDEV.org) is pretty awesome from what I can make of it thus far. What it does is tracks and display all the comments you make on other blogs within the multi-user environment. The are displayed in the "Comments" tab, under the subtab "My Comments." This is basically a co-comment-esque feature with the limitation of being only applicable to the comments you make within the UMW Blogs environment. And while this is limited, it also is quite powerful in that it allows both students and faculty to track their blog conversations and see when other folks have responded to them right in their administrative backend.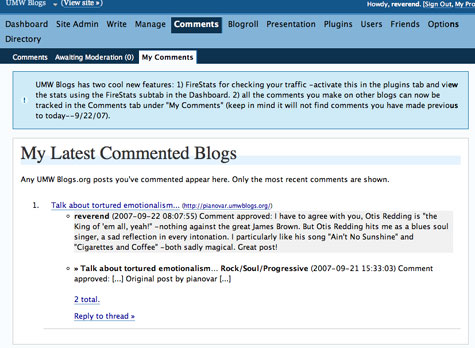 Below is a perfect example, I commented on one of Gardner's student blogs, and I am able to see the trackback someone else left, as well as any future responses to my comment up and until a point. The only issue is that it only tracks comments after you have installed the plugin, so the sooner the better. This plugin really highlights the benefit of using a multi-user install in an educational space like we are, for so much of the richness is in the discussion, and we now have a way for folks to track and access the comments they have made quite easily.
FireStats 1.4 for WPMu
This plugin is a pretty powerful stats manager that allows each and every user to manage their own statistics. It creates separate tables for each blog (or I believe it does at least) and allows a granular look at traffic, incoming links, referring sites, etc. The only thing about this plugin is that it is in deep beta and I am a little scared of it right now.
It has a sidebar widget that breaks the theme with PHP call errors (seemingly related to the bbPress forum integration). Also, the footer stats also break the theme. There are also some more sophisticated database options available through this plugin that have me worried, if anyone can assuage my fears on this one please do. I am testing it within UMW Blogs, but keeping a very close eye on it, because I am not sure if it will come back to haunt us at some point. More on this as it develops.
WordPress.com Stats
As a potential alternative to FireStats, I also installed WordPress.com stats, which I run on the bava and like a lot. Only issue here is that it requires you have a WordPress.com API Key, which mean you have to sign-up for WordPress.com, not the end of the world, but not as fluid as some may like. I will also be watching this plugin closely to see how its figures compare with those of FireStats.
My favorite thing about the WordPress.org Stats plugin might be the developers sense of humor. I installed it not more than ten minutes ago and went in immediately to test it out, and this is the message I got in return:

"Take 'er easy, Dude"! I love it when the folks at WordPress quote The Big Lebowski, it just furthers my unabashed fanboy status. Nothing like being scolded so poetically!