This one's a little late, and fortunately I didn't have to do much work to bring the following resource to you. Keeping in line with a philosophy that Scott, D'Arcy, and Brian were promoting at Open Ed 2007, why create new content when much of it is already out there?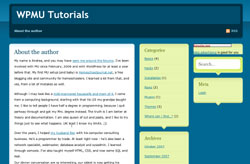 In the spirit of re-use, here is a WPMu Tutorial blog authored by Andrea (who is the same prolific and extremely knowledgeable andrea_r from the WPMu forums). This blog has some great advice, tips, and more in-depth information about WPMu that folks who are just starting out with this resource may find extremely useful.
Below is a quick list of some of the gems you'll find on this blog:
Ahhh, so much good, free advice brought to you with so little effort, thank Andrea for all her hard work.
Speaking of freely available resources, if you are starting a WPMu install for whatever reason you might find the documentation wiki at UMW Blogs of some use. Feel free to take what you want from the documentation re-use and remix it as you see fit.