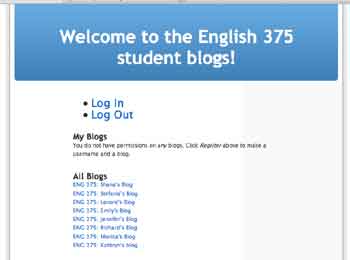 Well, I am back in the teaching saddle and it feels good, but I do feel sorry for the students in my class who have become subject to a whole lot of technologies. And while I think they're enjoying it, I am also realizing that blogs and a wiki can really change the way one can do business in a class – which is an adjustment for every one involved. So heeding Jerry's latest mantra, its is not all or nothing, it can be something in between -or even abandoned if need be (wow, this notion is really difficult for someone like me to accept!). Ok, but enough about the King, how about this thing called "Lyceum."
Lyceum is a multi-user blog solution based on the WordPress blog engine (you can read more Lyceum in an earlier post of mine here). I have been tinkering with it for a few months and the developer at UNC Chapel Hill, John Joseph Bachir, has been an unbelievable help it getting me up and running along the way -as have several other folks in the lyceum irc forum like whatup. One of the most impressive aspects of this project, besides the solid program, is the number of online venues they have made available for support. My experimentation was ultimately preparation for a live run, which has just recently started. So, now I am trying to give a little direction to anyone who might want to see how this program is installed, as well as a quick overview of the maintenance and administration involved.

Installing Lyceum:
Lyceum is a relatively straight-forward installation on most web-hosting services if you do not want to enable dynamic subdomains (which is optional). Enabling dynamic subdomains is not necessarily difficult, but it does require one to make sure they have wildcard dns enabled through the server (something you may have to talk to your web-hosting provider about). I haven't experimented with the dynamic subdomains yet, so I will not be discussing that part of the installation here.
Once you download the latest milestone here, just unzip it and you will have a series of folders named dec, doc, tests, and src.
The src folder is the only folder you should be concerned about for our installation purposes. The installation instructions suggest that you change the document root of your webserver to src – for those of us with a hosting service this may not be possible, so what you want to do is take the config, library, lyceum and installation folders and place them within the appropriate folder within public_html. For example, my class subdomain is eng775 (in my haste to set this account up I entered the wrong class number in the subdomain, go figure). So, what I did was to copy the lib, lyceum, installation, and config folder into the eng775 folder within public_html. The directory should look something like this:
public_html/eng775/lyceum
public_html/eng775/config
public_html/eng775/lib
public_html/eng775/installation
Ok, so far so good? I hope so. Once you have copied those files there are six settings you have to establish in the following file: config/wp-config-sample.php

define('DB_NAME', 'lyceum'); // You fill this in with the name of the database
define('DB_USER', 'root'); // You fill this in with your MySQL database username
define('DB_PASSWORD', ''); // ...and password
define('DB_HOST', 'localhost'); //hostname or IP of database server (possibly 'localhost') for bluehost it is localhost in my case

Once these settings are changed, you need to rename the wp-config-sample.php file to wp-config.php.
Note: All of the above settings are based upon the information you get when setting up a MySQL database through your control panel. I will try and detail this process as well shortly, just be aware that Lyceum does not create the database for you, this is something you need to have setup already.
Update: I have detailed the creation of a MySQL database with CPanel in this article.
The final two lines we need to be concerned about are paths you need to setup in order to tell Lyceum where to find the files, that is done below as follows:

// The web path to the base of lyceum (where portal.php is sitting)
// Something like '/' or '/lyceum/' or '/src/lyceum/'
define('WEBROOT', '/'); //My example above would have '/lyceum/' where '/' is
define('MAINDOMAIN', 'blogs.example.com'); //My example above would have 'eng775.jimgroom.net' where 'blogs.example.com' is

That should be it for the config file. Now we need to change the permissions on a few files. Change the permissions on the following files to 775 (this process may not be straightforward for some, if not let me know in the comments and I'll do my best to spell it out):
/lyceum
/lyceum/wp-comments-post.php
/lyceum/wp-content/blogs/
We are almost there! Finally, you need to go to the install.php file in your web browser to install lyceum. In my example it would be this: http://engl775.jimgroom.net/lyceum/wp-admin/install.php
Note: You should delete install.php after your have installed Lyceum successfully, otherwise the program could be vulnerable.
You'll be taken through two steps of the installation and ta da – disco your multi-user bloggin'.
Yet, with great power comes great responsibility!: Maintaining and administering Lyceum
Actually, maintaining and administering blogs in Lyceum is a breeze, which is exactly what you want from a multi-user blogging program. Here are the details, as I see them:
The Portal Page: when you go to the url leading to the lyceum folder you should arrive at the Lyceum portal page which is the place where users can register and login to their blogs. This is also where the administrator will log in when he/she receives a password at the end of the install. This page will look as follows: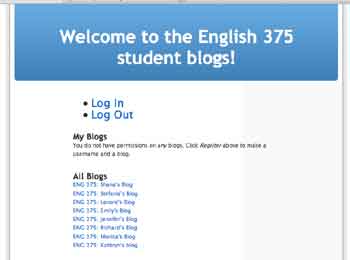 When you log in as the administrator you will be taken directly to the user profile page, wherein you can change your password, update or add personal info, and go to your blog or, as the admin, the system settings page which will be a link at the top.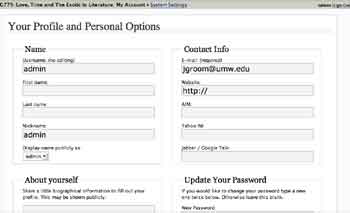 Click on image for larger view
Also, one thing I forgot when training students on Lyceum was that you have to enable the rich text editor for writing posts on the user profile page, just check the box in the lower-left hand corner if you want to enable the RTE and then click update profile.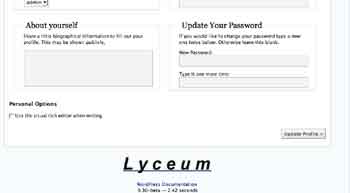 Click on image for larger view
Finally, at the top of the User Settings page is the link to either the backend of your blog, if you have set one up as an administrator, or to the system settings that allow you to administer system-wide plugins, restrict registration by email suffix, deactivate and/or activate blogs, manage blog users, as well as modify or rewrite the htaccess file if need be.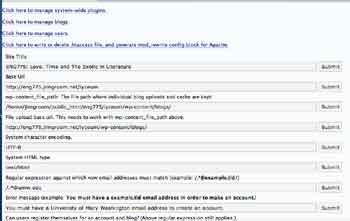 Click on image for larger veiw
Those are the system settings tools and I am including a screenshot just to give you a sense of what this space looks like. It is really not that different from navigating the backend of a single user account, and I have installed two plugins thus far on a system-wide basis and they both work fine. Keep in mind, however, that this may not always be the case.
A Work in Progress:
What I have set up so far is most definitely a work in progress, but so far so good, you can take a look at the student blogs for my class at either http://eng775.jimgroom.net/lyceum or go to the main course site and link on the blogroll http://eng775.jimgroom.net
Let me know where and when I am not being clear or you need some clarification and I will be certain to respond. Also, please let me know if you notice any flagrant omissions here and I will do my best to update this information so that it can soon be moved to a wiki and have a more open-ended collaborative life beyond the blog …