Thanks to Cathy Derecki's design/PHP skills we are currently experimenting with the possibility of using WPMu to allow faculty to create their own website/blog space with relative ease. Currently faculty and staff have a public folder as a part of their network space that will allow them to include basic HTML, it doesn't allow PHP for any of those brave faculty who code. Moreover, this web space provides no way to manage multimedia from around the web, it can't do RSS, and it has no real database structure that would allow faculty to update their online presence regularly with ease.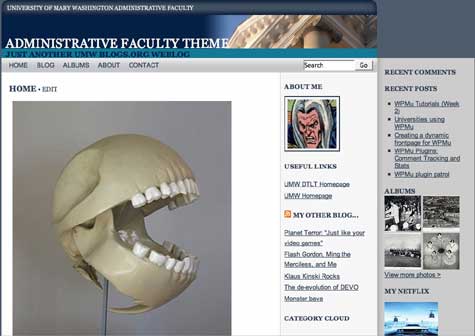 So, given all this, why not setup a WPMu domain (this could be done with one install that has several mapped domains) to allow faculty and staff to create their own website? Well, I guess because it isn't necessarily our charge here at the Division of Teaching and Learning Technologies, but it's just an idea that I keep coming back to again and again. Especially today when I sat down with a faculty member and spent about five minutes explaining WordPress and another fifteen letting her build a site. At the end of this experience she said, "That was easy, and my site looks pretty professional." Disco! And that is only the tip of the iceberg, for if faculty see how easy it is to publish to their own space, how long before they start doing it in earnest, or even begin conceptualizing and experimenting with other integral features such as RSS?
Right now if I (or any other member of the UMW community) wanted to have a personal site for my work at UMW within the university's domain, I would need to either code the site by hand in HTML (sorry Charlie, not happening), or I could spend some time and learn Dreamweaver or Fireworks or some other nonsense like that. Add to that the fact that I would have to figure out a way through the desert wilderness that is the Novell network environment. I'm speculating here, but I would guess that the number of faculty who don't take advantage of the web space at UMW has more to do with the hurdles of using Novell than any perceived disinterest.
Now, being that I am lazy, a shortcut-taker, and a quitter when things get rough, I experimented with the easy way. About a week ago I set up a test case for a faculty site using WordPress and it took me about fifteen to twenty minutes to create it using the customized Semiologic theme Cathy designed. Take a look.