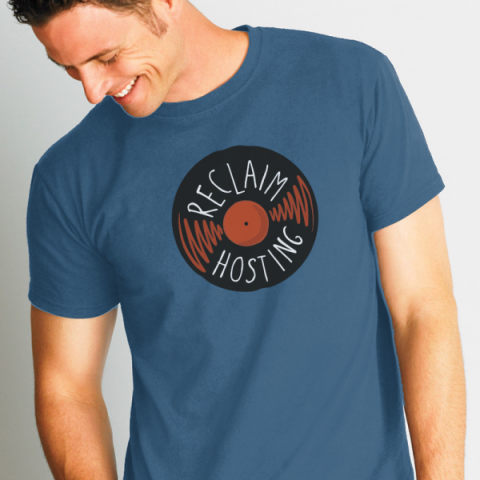 Yesterday we opened up the Reclaim Store for the first Reclaim Hosting t-shirt to date. I'm sure there will be more, but this is our first, limited edition run that will only be open until next Friday, April 15th. After that we'll place the order and send the shirts out to folks, along with some other goodies. As Lauren noted in her blog post about the t-shirts, we are doing this run is to celebrate the launching of Reclaim Hosting's new aesthetic on the site.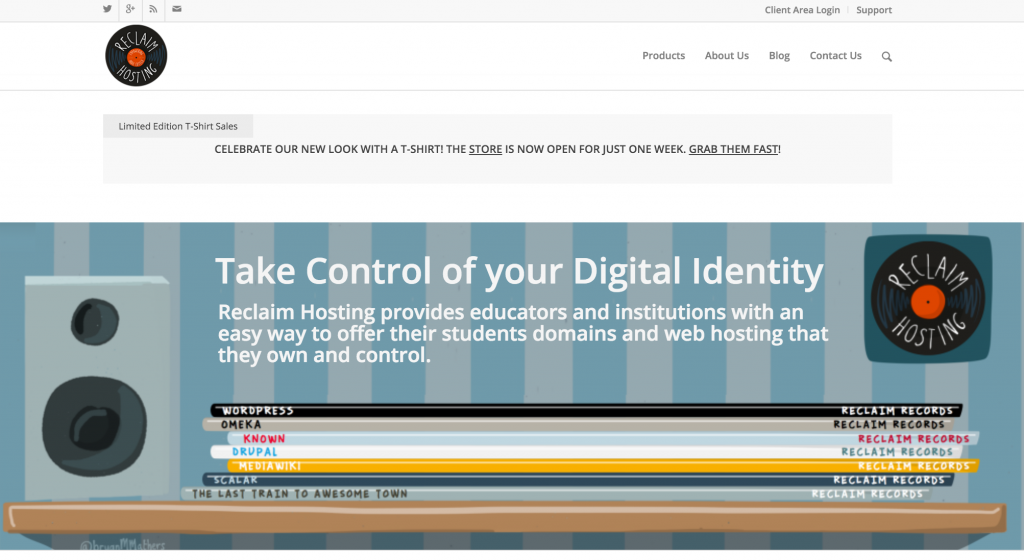 I couldn't be more excited about the creative work Bryan Mathers has done for us, and as Martin Weller reminded me yesterday, that relationship happened almost a exactly a year ago in Barcelona:
@jimgroom @ReclaimHosting love the @BryanMMathers logo. I like to think I was there at the start of that beautiful friendship

— Martin Weller (@mweller) April 8, 2016
In fact, he even had visual evidence of the very moment Bryan was drawing our logo 🙂
@jimgroom @ReclaimHosting @BryanMMathers captured pic.twitter.com/Z88MQLn1DW

— Martin Weller (@mweller) April 8, 2016
I have to admit I am totally loving this project. Deep down I have a whole lot of used car salesman and marketing douchebag in me, I work hard to repress these impulses. That said, it has been a blast to be able to roam free and imagine a metaphor for Reclaim Hosting that captures the spirit—and what I am hoping is the reality for folks who host with us—of our services. We provide a small, specialized approach to hosting in the context of education. We focus on an ethos of empowerment and back it up with stellar support. And while we by no means limit our customers to the realm of education, we recognize that's our strength and we play to it. I've had no shortage of satisfaction working with Tim and Lauren to build Reclaim Hosting into a small, targeted business folks can and do rely on, and I think the imagining of an aesthetic/metaphor and the framing it around an ethos has given me by far the most joy. Reclaim Hosting #4life!