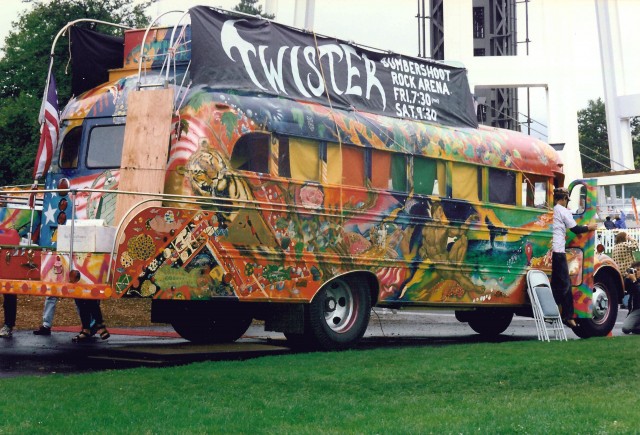 David Kernohan (you should really click the link to his blog) reminded me in the comments here of a crazy idea Brian Lamb and I had at the Open Ed conference in Utah last year. It was pretty simple: get a ds106 tour bus and travel around North America (and possible other places) to various community spaces, K-12 districts, colleges and universities in order to bring ds106 to the people. It would be a group of maniacs that could pretty easily rotate in and out, and it would basically be a media creating bus in which we would tour around and bring the ds106 experience to whoever was interested. Not unlike Tony Hawk's Boom Boom Huck Jam without the skateboards, bikes, and motorbikes 🙂
It would be a blast, and I could only imagine the stories, media, and art that would emerge from this madness. What's more, I actually proposed this to Josh Jarett of the Gates Foundation soon after we both gave a talk at Open Education 11. Here was my proposal:
I would love to talk further about possibilities for the Gates Foundation funding a ds106 tour/road trip around the country that frames an ongoing, mobile classroom that moves into communities. It could kind of be a regular documentary around a community of learning. It would move away from the products and focus on the process and journey.  i would also reach out directly to those students who are on the outside looking in—for the reasons you outlined beautifully in your talk.

If the Gates Foundation has any interest, or if you want to look at a more fleshed version of what I am talking about here let me know.
And Josh noted this was a bit out of the Gates Foundation's purview at the moment, but suggested it might be something we re-visit. And when I saw David Wiley in Austin a couple of weeks back he recommended I try again, and if he thinks it might have legs I'm even further encouraged. And frankly, I think it's a pretty interesting model to pursue in terms of funding, even if only because it breaks entirely out of the traditional notion of educational grant-funded projects. I imagine it would cost some money considering we would need a bus, airfares in and out of various cities for a number of people, and some money to free folks up from their day jobs—but how fun would this be? I really want to take ds106 on the road, and I think this would be a brilliant project to be a part of. And quite frankly, I'd take my whole family and make it a learning experience for all of us. Kernohan said "Dream big," and I think this would be about as big as I could dream for ds106, save maybe a World Tour 🙂 I mean think of it, the first class with a World Tour T-Shirt, kind like Iron Maiden…we don't list cities, we list countries!