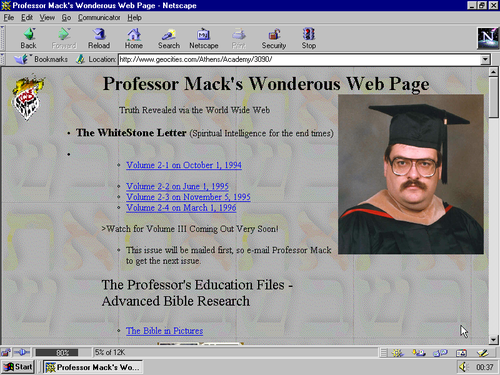 I found this image on the Tumblr "One Terabyte of Kilobyte Age Photo Op" which consists of random images taken from an archive of Geocities sites. It's part of the Geocities research blog run by Olia Lialina and Dragan Espenschied. According to the Tumblr description:
Screenshots are automatically generated from a stash of old Geocities home pages, rescued by the Archive Team in 2009. The files are processed from oldest to newest.
I love this kind of stuff, and when I saw this screenshot I couldn't help but think that the Domain of One's Own project is part of a long history of faculty and students alike creating "homepages" on the web. Geocities was the old gold equivalent of helping people get up and running making a site, learning some absic HTML, FTPing files to a server, and generally understanding how the whole web thing works. I had my own Geocities site I back in 1994 that was dedicated to American Modernist literature. That was my first experience with writing on the web. The tools have come a long way in many respects over the last decade, but the idea is basically the same. Everything that is old is new again.