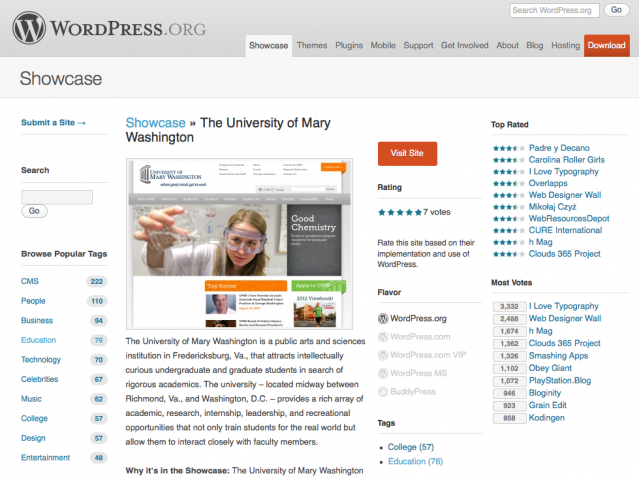 I just discovered that UMW's website is showcased on WordPress.org. UMW has been running WordPress for it's entire website for almost a year now, and it's pretty sweet and Cathy Derecki and Curtiss Grymala deserve all the credit. To get a sense of how slick a departmental site can look, check out DTLT's homepage. What's more, we have FeedWordPress running on umw.edu, and we are about to let the syndication from UMW Blogs, personal sites, etc. begin throughout the website, allowing departmental sites to have featured, syndicated content from a variety of sources such as course sites, personal sites, research sites, news sites, etc.
According to the showcase site the reason UMW's site is featured is because…
The University of Mary Washington site uses a WordPress Multisite installation with plugins created specifically to adapt to a multisite environment, custom post types to manage a document organization system and custom user roles for faculty and staff.
But the real reason it should be showcased is that it has the potential to become a distributed publishing hub that actually features the work happening around campus through intelligent syndication and aggregation rather than acting like a digital brochure. I have the feeling that this will be the year we start pushing those boundaries.