Patrick Murray-John has been working tirelessly over the last month to realize an extremely exciting possibility for marrying the Semantic Web with WPMu, although this experiment is by no means limited to this application. What he has been doing is scraping the available data from the uber RSS feed of public blogs from the UMW Blogs Tags Site, and pulling it into a suite of semantic web tools provided by MIT's Simile project (namely Exhibit and Timeline).
"Why?" you ask. Well Hondo, because these tools provide the means to visualize and connect the activity on UMW Blogs in new ways, check out the Timeline of UMW Blogs posts over the last two weeks here. Or look at how a tool like Exhibit provides interesting ways for creating a more comprehensive directory of users, tags, and posts (something WPMu just can't do extensively). The alphabetized Bloggers Exhibit that has a weighted tag cloud for each letter of the alphabet which lists usernames, or take a peek at the Blogs Exhibit that does the same thing with Blog titles.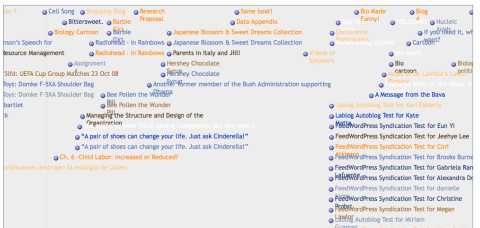 Moreover, we now have a way to collect all the images uploaded to UMW Blogs in one place, and a gallery of top ten lists for those blogs with the most images, audio files, or videos. What this means is we now have a series of alternative means for capturing and mnpulating dta for UMW Blogs that will allow us to search, discover, and make connections more easily than we could previously. We are at the beginnings of this experiment in some ways, yet in others we simply just have to style and re-theme the data accordingly and we are ready to unleash it on the UMW Blogs community to see how they use it and what value it brings to further build upon this already robust publishing platform. Is this what the trendy discussions about Web 3.0 is all about (besides the pervasive idea of cloud computing which is in many ways upon us)?  Finding ways to marry the power, ease, and usability of Web 2.0 tools with the promise of discoverability, visualization, and deep connections that the Semantic Web has promised? I guess we're about to find out here at UMW.