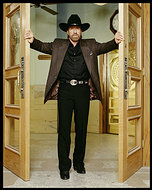 I have no idea why Chuck Norris has become a cult hero – but I recently read an article in the Washington Post that outlines the current twenty-something generations' fascination with Chuck Norris (personally, I think he is the most pathetic excuse for an action hero since Fred Ward in Remo Williams).

After finishing the article, I pushed this apotheosis of "Walker" out of my psyche and tried to cleanse myself of chic ironic positioning I don't understand. But all to no avail, for my friend Zach just sent me the following link to the Chuck Norris Facts website. And while I can't come to terms with Chuck's new found celebrity (he's come a long way from riding tandem with Christie Brinkly during an infomercial), I have to admit that this page is hysterical, and if I were not so attached to my disgust for Chuck I would probably see that this is part of the fun.
Here's a couple of morsels:
Chuck Norris' tears cure cancer. Too bad he has never cried. Ever.

Chuck Norris does not sleep. He waits.

Chuck Norris is currently suing NBC, claiming Law and Order are trademarked names for his left and right legs.
I just hope his cult status doesn't garner him any undue respect!