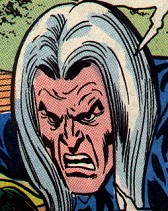 Doing some last minute prep for class this evening I stumbled across an interesting fact about the iconic early American minister Cotton Mather. Not only was he arguably one of the most important figures in shaping the regrettable Puritan legacy of the U.S. with works like the Magnalia Christi Americana, but he also had played a small, but crucial, role in the Marvel Team-Up comics series that ran from 1972 to 1985 (check out the wikipedia article for the amazing cast of characters this series featured).
Want some more details about this lesser known fact regarding the Fire and Brimstone patriarch par excellence? Below is the tale of the tape (original source found here):
Real Name: Cotton Mather

Identity/Class: Human (magic user?), 17th Century

Occupation: Witch hunter, magic users seeker

Group Membership: None

Affiliations: The Dark Rider, the puritans of Salem

Enemies: John Burroughs, Dr. Doom (Victor Von Doom), Moondragon, Scarlet Witch, Spider-Man (Peter Parker), Vision, all the magic users in the world, all the servants of evil

Known Relatives: None

Aliases: The Great Inquisitor, Hatemonger, Servant of God, High Priest of God

Base of Operations: Salem, Massachusetts, USA

First Appearance: Marvel Team-Up I#41 (January, 1976)

Powers/Abilities: Mather powers' origin are unknown (probably they were granted to him by the Dark Rider). Mather could sense and find magic beings, project his voice (or thoughts) at very long distances, control and command other's will by touching them or hitting them with the fire shot from his wooden cross. Mather seemed stronger than a normal human. Mather used a wooden cross as weapon. The cross could shoot a "purifying" fire, not burning things, but strong enough to hurt Spider-Man and drive the Vision off. The fire also allowed him to control Scarlet Witch's will.
I really love the way his character profile reads like something out of the Advanced Dungeons & Dragons Monster Manual: "Class -Human/Magic User; Special Powers -mind control, fire shooting wooden cross…" It is really quite fun to find a pop culture reference for one of the most feared and dreaded writers of colonial period. His work is much more exciting and dynamic than often assumed, and a little spilled Marvel ink never hurt to make that point!;) Tonight we discussed his work Pillars of Salt -a history of Crime in New England through sermons, confessions, discourses, and narratives from 1642 until 1698. Believe you me, there is some wild stuff happening in these narratives. If you are at all intrigued, be sure to read the very short and entertaining section of this crime anthology that deals with the punishment of recalcitrant bestiality in Puritan New England here (bottom of page 405 to top of 407 -thanks google books!). Nonetheless, it was really a nice change of pace to start the class off with an image of Cotton Mather portrayed as a Witch-hunting murderer who is trying his "damnedest" to finish off the Amazing Spiderman with the ever dreaded fire-breathing wooden cross!
Are we really still questioning the unbelievable resources the internet more generally, and web 2.0 services and applications more specifically, provide a curious teacher for approaching their subject matter from all sorts of exciting perspectives? I didn't think so!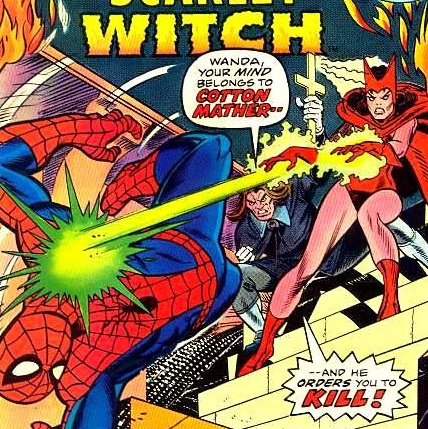 See full cover of this particular comic
here
.