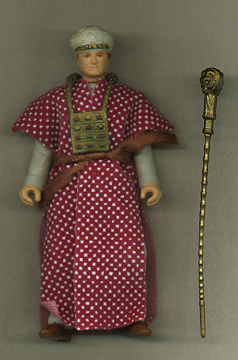 While talking about the Clash of the Titans action figures, I immediately am reminded of another series of figures based on Raiders of the Lost Ark that were released in 1982 and 1983, but never really took off as the Star Wars mania did. I had Indiana Jones and Toht, and I dug the whip action arm of Indy, and having a figure that had a whip was almost as cool as Chewbacca's crossbow. That said, the Raiders of the Lost Ark figures were certainly prized by me, but more as an object of my affection for the film, than a real appreciate of the figures. They almost represented 8″ moments of my fandom. And, as is often the case, the fact the figures were ephemeral, the promised free promotional Belloq in Robes figure was never produced, and has become a bit of a Lost Ark of the Covenanat for toy collectors. According to the this page on toyarchive.com:
Belloq In Robes MOC was never produced. Only a handful of known salesman samples exist in collectors hands. These are highly treasured and there are many high quality fakes out there. Keep a watchful eye and if it's to good to be true…you know the rest.
I love the whole idea of a fake Belloq in Robes trade somewhere out there. Brilliant.