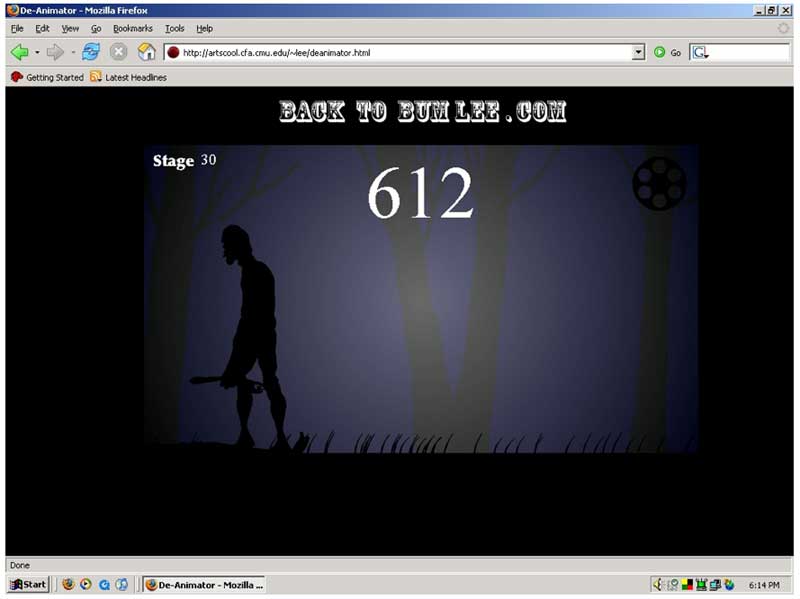 I think a huge shout-out is in order for Chris, who has taken the de-animator game play to another level. I recently blogged about de-animator, but, in short, a post I threw out over 6 months ago that is far and away the most consistently popular destination on this blog. The original post was just a quick description and link to a fun flash game called the de-animator (if you haven't played it yet, you should!). And if you do play it, just think about what it might take to get to level 30 with a score of 612 -the previous high score was Kayz's at 206 (and an undocumented claim of 255 by Timmy). Kayz -if you are listening- is 612 off the charts or what?
I just want to say you both rock! This de-animator post has been about the longest, sustained source of fun I have had with bavatuesdays. And while I spend countless hours thinking and writing about educational tech, movies, teaching, etc., a simple flash video game has brought me in contact with a different community of gamers who take pride in their skillz. It is extremely rewarding for me that the bava has provided a makeshift space for a small distributed community to enjoy their shared passion of videogames. I think this simple post may offer an interesting anecdote for the relevance of video games. But, it may not -either way the most important thing is that it has pushed me out of retirement and back into the de-animator ring! I begin a serious training regiment tomorrow morning at 4 am and I will – I repeat- I WILL reclaim my crown from the new, reigning, heavy-weight champion of the de-animator world: CHRIS!!!!! . Enjoy this sweet victory while it lasts, Chris, I'm coming for you 🙂
In all seriousness, can anyone ever beat 612?! That may very well be the pinnacle of de-animator scores, equivalent to turning over Pac-Man or something.