Darren Barefoot recently blogged about Facebook as an "Ad Hoc Engine for Folding Time." Here's a quote from his brilliant framing of this widely popular application:
Imagine the advantages of providing an online community where past, present and future members of an organization (a university faculty, a non-profit group, a company and so forth) can gather and exchange information.

To stick with my theatre example, imagine enabling a high school student in Campbell River to talk to a current UVic [University of Victoria] student, and enabling an acting student to talk to a graduate who's now a working actor.
I could never have put the promise and possibility of Facebook this eloquently or cogently, so rather than trying, I implore you to go read his entire post (linked above) then come back for a few banal reasons why I find myself spending a lot more time in Facebook as of late.
Reason #1: Facebooking flickr!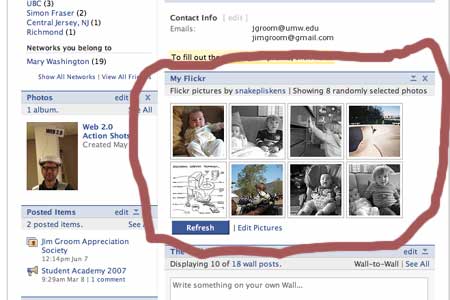 Reason #2: del.icio.us bookmarks anyone?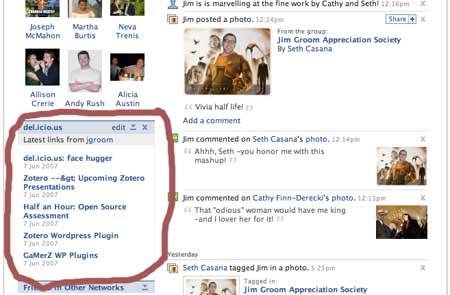 Reason #3 Facebook twits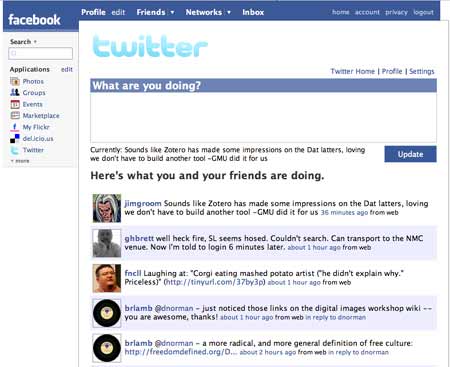 Reason #4 YouTube videos can be embedded! See here for details.

Reason #5 As with everything, it always comes back to fun, community, and the cult of me, me , me, me, me!!! (Sorry Barbara, and thanks go to Cathy and Seth -for further feeding an ego that knows no bounds and who have made Facebook all the more interesting these days with some pretty entertaining photoshop mashups.)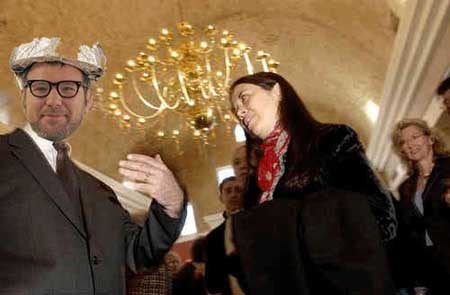 Caption reads: "Jim Groom is feted by UMW as he accepts the offer of Presidency of the University. He turns his head to the camera, asking someone to please remove this odious woman from his sight."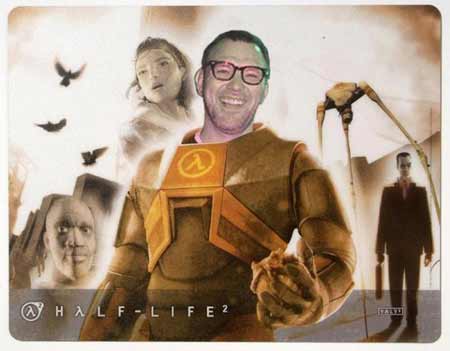 Caption reads: "Yeah, I guess I do see the resemblance."
So, in short, I guess I have to finally face the facts that perhaps for all the right (or wrong) reasons I find myself in Facebook a lot more these days. It's intensely simple, insanely connected, and has recently allowed for some exponentially exploding possibilities. Now this no way challenges my status as WordPress fanboy, and I am intensely sensitive to the fact that Facebook is not open source and I can't host a version on my Bluehost account (which would undermine the whole logic of it). All the same, it has become extremely compelling for a long time hold-out skeptic like myself. I think I am becoming a believer -you all know what that means, don't you?!