A couple of months back I happened upon the American Museum of the Moving Image's Moving Image Source, which is an online publication featuring articles about film, television, video games, actors, and more. The posts are written by critics and scholars from around the world, and the wde range of writers who all bring various perspectives to the online journal captures a certain amount of wonderful unpredictability.  You never know what the next article will be about, and I like that a lot.
In fact, It has been a ton of fun reading the articles, and my only complaint is that I wish you didn't have to login to comment; I just can't seem to get up the inertia to fill out another sign-up form. That said, I spent an hour or two on the site tonight fling rom article to article, and while I have a bigger post brewing about Annette Insdorf's article "Seeing Doubles," I got quickly pulled into a series of interesting articles through simply browsing the last two months worth of articles, which amounts to 44 posts—wow! that's an impressive amount of good content being solicited by and published through a museum site on a regular basis! Is there another museum that is doing anything half as ambitious in terms of openly publishing so man fresh and compelling articles from scholars and critics?
Well, while I'm at it, below is the tale of the tape from the two hours tonight I spent reading articles about everything from queer cinema to black exploitation cinema to avant garde and the mashup to The Wire and Balzac. Now there's some range I can dig on.
I really enjoyed Sam Adams retrospective look at Derek Jarman's career titled "Look Back in Anger." Particularly the discussion of the complex poetics of the politic in his The Last of England (a film I saw back in the early 90s at a Jarman retrospective at the Nu-Art theater on Santa Monica Blvd in beautiful Los Angeles, a magical theater where I saw many a great film—I actually saw a midnight showing of Spider Baby there—but I'll return to the Nu-Art in some other post). Adams points out the poetic ambivalence in this masterpiece beautifully with the following quote:
The Last of England, known at one point under the working title Victorian Values, was a blunt attack on Thatcher's promise to restore the mores of an earlier time. But the movie is not reducible to a one-sided polemic. Jarman's vision of a bombed-out Britain, a landscape of industrial wreckage and blood-red skies, is founded on an unspoken and only briefly glimpsed ideal of an unsullied past, most poignantly realized in the footage of Jarman's grandparents, filmed before he was born. In mourning a past Jarman never knew, the movie surpasses even the party of Thatcher in its idealistic vision of a bygone time, even as it rages against the country's rightward drift. No wonder one of his Jubliee collaborators called Jarman "a radical Tory."
Also, Ed Halter's "Recycle It: A look at found-footage cinema, from the silent era to Web 2.0" is an interesting discussion of the history of re-mixing and re-using found-footage is awesome. The article has some great links to various historical footage and resources, and it even links out to the Duvet Bros. classic re-mix Blue Monday, which Halter describes as follows:
A masterwork of this postpunk moment is the Duvet Brothers' Blue Monday (1984), which sets images from the Thatcher-era miners' strike to the tune by New Order, turning the forlorn synth-pop love song into a lament for a people's broken relationship with its government.
An excellent overview for thinking through the political, social, and avant-garde roots of the mashup.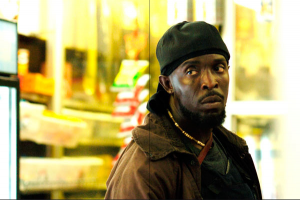 Additionally, there is an entire series of articles being publishing on the Moving Image Source about The Wire. And given my marathon viewing of all five season in June and July, I indulged in the scholarly press 🙂 Nelson George's discussion "Across Racial Lines" is an interesting article that examines the art of writing race in the TV series The Wire, and argues, rightly I think, that it may very well be the single best protracted discussion of race in a mini-series since Roots.
Dana Pollan's article "Invisible City" compares The Wire to the literary universe of a Balzac novel, a comparison that is both accurate and useful for thinking about the series. I think the discussion of Balzac and The Wire hits the mark, and gets at the de-centered, vibrant universe that characterizes that series. Unlike Pollan's initial comparison in this article which juxtaposes the final scene of Straw Dogs and the final scene in season 1 of The Wire, a relationship that is completely lost on me–and I am a huge fan of Peckinpah's Straw Dogs. An example which highlights some of the less impressive tone of the writing in several of these articles. They're often trying to throw in these relations, allusions, and connections that sometimes work and sometimes fail, but rarely have a kind of animated voice behind them. A site like this is invaluable, but it also illustrates some of the key differences between blogging and critical and scholarly writing, and I have to say the latter might benefit from some stronger opinions, zealous affectation, and a few more far out comparisons—so more bava bravado in the mix perhaps?
There's also a series articles/videos that provide a voice-over analysis of the title sequence for The Wire produced and writeen by Andrew Dignan, Kevin B. Lee, and Matt Zoller Seitz. The first video "Extra Credit, Part 1" starts out kind of stilted and unimpressive for the analysis of the titles for Season 1, but get increasingly looser and more compelling by the time you hit the second and third season titles analysis. And by the fourth and fifth they're on top of their game. You can find all of them here, and they are well worth watching. The authors hit the mark on numerous points about the show as told by the titles, and bring some fascinating readings of the various details packed int the credits that are easily overlooked. I love this example of a very close, well argued visual reading of the title sequence, great stuff.