A strange thing happened to me today. I was playing around with the new Prologue theme for WordPress that acts in many ways like Twitter. I had already tested it on WordPress.com here, but I wanted to see if the GPL theme (freely available distributed here) would work on a hosted WordPress Multi-User installation. So, in an effort to keep the spirit of experimentation alive I tried it out. And it works well, but there are a couple of minor issues:
First, the author's name doesn't show up in the inviting sentence above the text box, rather you see the following: "Hi, . Whatcha up to?". Nonetheless, the various author's names do display the name properly in the page — so only the person writing the post will be perturbed.
Second, I am using Suleiman's excellent WPMu Avatar Pack Release, but those avatars will not display as the theme is coded presently. However, GRavatars work well with this theme as it stands now. So if you are interested in trying this on your own WPMu installation, grab the GRavatar plugin for WPMu here.
Note: I am sure any "fix" (quotes here because the WP folks noted it would have to be tweaked) depends on a quick hack that I will hopefully figure out (but most likely find on the forums) soon. More importantly, however, is that when testing it on WPMu 1.3 there were no larger issues than these minor details.

But none of this is what was so odd, what was bizarre was that I tweeted the URL of the demo-site of Prologue for anyone who was interested in signing-up for an account. Logic being I culd get some feed back on how I set this site up so that anyone could quickly do it in two-steps: 1) sign-up for a username and 2) add their e-mail to sidebar of the Prologue log (an experiment to see if this could work for a larger number of people though allowing people to add themselves to the blog). I figured if all they needed to do was sign-up for an account and then add their e-mail address in the sidebar of the Prologue blog, I would find if there were any hitches while at the same time testing it out (for those interested, the ability to add authors to a blog via their e-mail is accomplished using the Sidebar Add Users plugin). Even though it's two simple simple steps, people are busy and I really I didn't expect anyone to jump on it anytime soon, if at all.
So, finally, what was really crazy was that when I checked back on the site tonight I found that at least six different users had posted at least twice in five different languages. Can you believe that?! Oddly enough, they all seem extremely familiar to me for some reason, and it's as if they are picking up on a conversation they never really stopped. The internets can be very, very strange. If you don't believe me, see for yourself.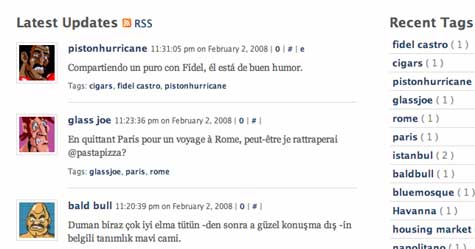 See the full conversation here.