At the end of August Miles, Tim, and I went down to the Video Vortex in Raleigh, North Carolina for a 3-day event VHStival, focused on all things VHS put on by Alamo Drafthouse and organized by Josh Schafer (Lunchmeat editor-in-chief) and Skip Elsheimer (proprietor of AV Geeks which is home to over 25,000 16 mm films rescued from the trash heap of history). TL;DR: it was awesome!
We drove down from Fredericksburg, VA Friday afternoon and arrived in Raleigh well before the first event, an 8:55 PM showing of TerrorVision. In fact, we had plenty of time to get some dinner in downtown Raleigh and check-out the local arcade bar Boxcar with their over-clocked Pac-man (more on that in this post later). Once we arrived at the Video Vortex we had time to check out the setup, and I was thrilled to learn their were already tables setup and a whole host of video tapes for sale. The image above is our haul of VHS for Reclaim Video Friday night, I probably bought just as many (if not more) on Saturday and Sunday—not to mention a Super-VHS player. The selection, detailed below, gives you a pretty good idea of the selection. There were so many fun tapes that transported me back to my local video store (East Coast Video) in Oceanside, Long Island. I was happy, and Miles said as much, "I don't think I ever saw you so giddy, dad." That's right, son, I was 14 once too, a long time ago when we needed dedicated machines that ingested rectangular tapes with strange mud flaps.
I think the first 30-45 minutes Miles was amused by my excitement, but once we stepped into a movie theater wherein we could eat wings, burgers, and pizza his amusement became something akin to interest. And once the lights went down and TerrorVision started, it was pretty clear he was hooked. In fact, when we came back Saturday for the second day he was locked in (in fact, he was behind the bed of VHS tapes image above). The physical tapes and their covers are more than just a novelty, they tell a story and sell an idea, and they are pretty damn good at it. Reclaim Video was not only a sponsor (can you find us on the t-shirt?), but also had a table wherein we showed off some of the work we are doing with Reclaim Video.
Miles was representing us with pride by day 2, and we were able to show folks some of our thinking around trying to run a VHS video store in Fredericksburg, VA remotely from Italy. We brought the Oculus Quest which was set to 360 video Tim took that put the viewer in the middle of the store. And, to top it off, we setup an old CRT to wherein folks could cruise around the store as a robot. Also, the free t-shirts didn't hurt.
Later in the day on Saturday (after another buying spree and a few hours of chatting with all sorts of VHS geeks) there was a panel about the future of VHS, which is the most awesome oxymoron. How I got to sit on this panel with a bunch of people who actually do this for a living is a wild story. I got to meet Skip Elsheimer (thanks to the good folks at VCU) at the Durham arcade Quarter Horse, which was where we help the Domains19 after-party. I told him about what we were doing with Reclaim Video and he said you have to come to the VHStival at Video Vortex in late August/early September—the rest is blog history. Funny how these things align.
I was on the panel, and I talked a bit about Reclaim Video, but in some ways I toned my enthusiasm down a bit given many of the folks were video rental stores trying to figure out how to stay afloat. Seemed an odd venue for me talking about robots 🙂 That said, the general idea (and one I agree with) is that if you want to run something like Video Vortex (a fully operational video store) you have to have something else to bring them in—in this case the Alamo movie theater. So, in turn, the panel was more about other models beyond straight up video stores because however one feels about Netflix, Prime Video, etc., the trend towards streaming video is not turning around anytime soon. The other elephant in the room that never really came up was licensing, how can an independent streaming video store even exist given the nature of online content licensing. That would be a really interesting question to explore, and I wonder if your stream only played VHS, laserdisc and betamax rips of these titles if that would in some way change the discussion around copyright licensing at all. Regardless, it was an honor to be included on the panel, and I really appreciated what Josh Schafer had to say about the preservation of this media. There was a question about whether VHS tapes having a definitive shelf-life, and his answer is the quality of tapes vary for sure, but under the right storage conditions these tapes can last a long time. The big issue, according to him, is maintaining the hardware, namely VHS, laserdisc, and betamax players, that still work. And, I'll tell you, from my perspective that was dead on. I can find tons of VHS tapes that still play beautifully, but a good player that still works is another issue all together.
After the panel discussion, we went to a different theater and locked in for The Toxic Avenger. When introducing the film Josh Schafer noted that a few people were like, "Really? You are gonna show that one?" Re-watching it, I understand why 🙂 It is crazy, the level of ultra-comic violence in the Troma films really does speak to the point Josh made, "The 80s was a different time."
On Sunday, we setup the table again, and by this point knew most of the other folks at the festival. It was intimate enough to be real, and I enjoyed that immensely. Possibly the best session of the festival (although they were all so good) was the showing of Heavy Metal Parking Lot, which included a second showing in which we played bingo, and then the co-director, Jeff Krulik, shared his history of this 15 minute film of a parking lot before a Judas Priest concert in the mid-80s went viral via the bootleg VHS tape "market." it was fascinating, and he also showed some of his local access community television work, which was amazing. And then there was his documentary about Ralph Whittington, "The King of Porn," whose collection of memorabilia was recently acquired by the NY Museum of Sex.
After the session we got to both meet and talk with Jeff Krulik, who was absolutely awesome. He took selfies with all his many fans, and even signed and gave-away copies of the Heavy Metal Parking Lot DVD:
https://www.flickr.com/photos/jimgroom/48754528696/
"Hey Miles, Glad to have you in the HMPL family!"
Dug this "The Thing" denim jacket I saw one of the VHStival attendees wearing!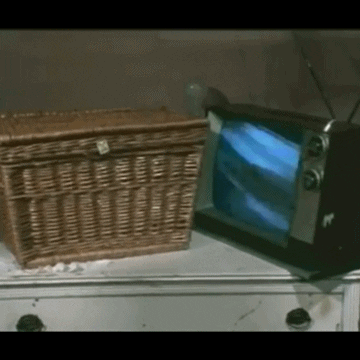 Finally, we rounded out the festival with a showing of Basketcase (1982) at 6 PM Sunday evening. It was, at least for me, the most memorable movie of the weekend. It really holds up surprisingly well as a document of NYC during the 80s. Josh Schafer described it as "sleazy," and it might be the best descriptor of the film. It was interesting to learn that the film is now part of the MOMA's permanent collection. Another factoid Josh shared (he was awesome!) was that Basketcase rise to cult popularity in the early 80s was in part due to the fact that the director, Frank Henenlotter, was able to undercut the VHS market, where films would sell for upwards of $80 or $90, and sell Basketcase for under $20. This got it in more video stores and also enabled folks to actually own a film, which was fairly uncommon at the time.
All in all, the weekend at VHStival was some of the best fun I have had in a very long time. And the weekend provided an awesome opportunity to get my oldest hooked on schlock US VHS culture (although it was cool to learn TerrorVision was filmed on an Italian Soap Opera set in Rome), it was also really useful for Tim and I to get some time to think through the relationship between Reclaim Video and the idea of Reclaim Arcade. I think after we went to the Boxcar Arcade and Bar we were more convinced than ever that using creating an arcade might be more than just a pipe dream, it could very well be financially viable. That place was packed with people, and while it was a bar first and arcade second, there was no doubt folks were loving the video games. I'll have more to say about this in my forthcoming Reclaim Arcade post, but suffice it to say it was hopping, and I had to wait almost 20 minutes to get on a Pac-man machine. It was worth the wait though, because the best high score of my entire life, and made it to the seventh or eighth key!