"Just when you thought it was safe to look at the calendar again!"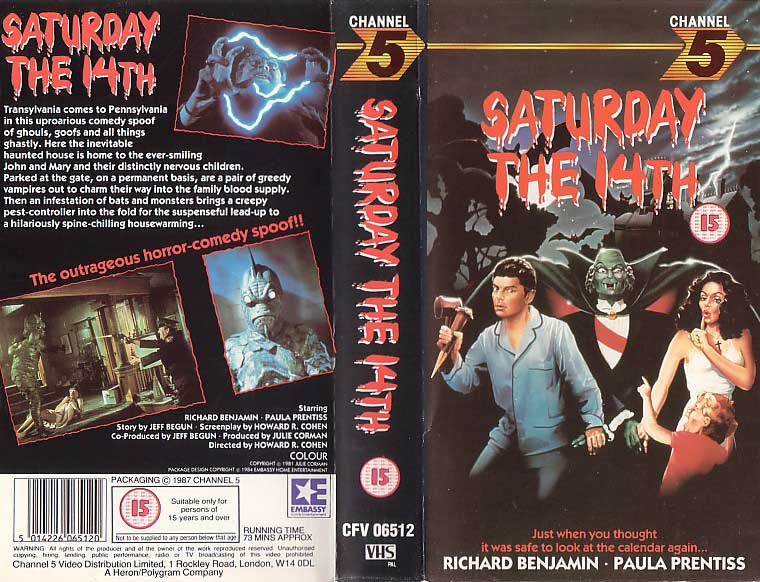 Saturday the 14th (1981) was perhaps one of the worst films I saw as a 10 year old (and I saw many, many bad movies back then) in large part because I had such high expectations for it. I was so looking forward to this movie primarily because I was already a huge fan of the Creature from the Black Lagoon, alas there was little in the way of character development on this score.
This film marks a really interesting moment for me. The over-sized single screen moviehouse up the block was my mecca, yet the brand spanking-new VCR in our living room had opened up some unbelievable doors (never realized just how many it would close simultaneously). There needs to be a long series of posts on the bava about the Century Baldwin (the theater I grew up around the corner from) in relationship to the death of the movie-going experience in the US. It is something I often lament, but I am not sure whether it stems from a displaced notion of nostalgia on my part or a larger sense that the end of the single screen movie theaters with their elaborate marquees and detailed facades marked the end of something for all of us. How can the Cineplex 150 on the edge of nowhere that every one must drive to ever compete with the temple of smoke and mirrors at the center of our neighborhood?
Anyway, this is the kernel of a much larger sequence of posts, it's just that the day Saturday the 14th always reminds me of the dark, Coke, popcorn, and Dots filled excitement of interacting with a beautiful 35 mm screen in a building that cradled and fostered my seemingly limitless sense of wonder.