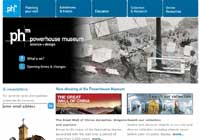 The New Web seminar at UVIC hosted another fascinating discussion today about integrating web 2.0 tools into the museum landscape with Seb Chan from the Powerhouse Museum (see this post for the highlights of our discussion with Kevin von Appen about the Ontario Science Center's RedShift Now). The Powerhouse Museum is a Science and Design museum located in Sydney, Australia and they are employing a plethora of innovative strategies to open up their collection to the public (which, if I remember correctly, is somewhere in the vicinity of 60,000 objects).
Here's an image of Jim Spadacinni and Seb Chan (on the screen!) during the videochat.
In an attempt to mirror the logic of our conversation, I'll start with their integration of a folksonomic tagging system of individual artefacts in their collection. In short, the museum has enabled users to create keywords around objects in their collection which then, through a relational context, creates a series of connections between keywords, related searches, related subjects, and similar objects. In turn, creating a vast amount of possibiities through which the user can explore the collection in numerous and varied directions. According to Chan, allowing users to tag objects in their collections has led to some pretty exciting results. For examples, the Powerhouse Museum has a number of rifles in their collection that are not allowed to be exhibited to the public for reasons that I was not entirely clear about (doesn't every country have the second amendment privilege to bear arms -no matter what the occasion!). Nonetheless, these rifles were included in the online collection, and an entire community of gun lovers created a whole series of quite specific tags that introduced an entirey new vocabulary making the database more easily searchable for a community of users.
Another element of the collection that has recieved more exposure through these folksonomic tags (and I have to admit I am a bit vague on the details, so perhaps someone can fill them in through the comments) pertains to Convict Love Tokens. The Powerhouse Museum has a number of these tokens that I had never heard of before, but are quite intriguing. Below is a quote from one of these objects in the collection that explains the significance of these tokens:
Convict Love tokens such as this one by H. Heald for 'Mary' have been described by Anne Schofield as the first Australian artwork. Even purely narrative tokens such as this example have their own distinctive style, but even more important is the fact that they exist at all. They were made from smoothed-down coins as mementos for wives, lovers friends and family members (including those of the same gender). Their purpose was to comfort the recipient, and perhaps subconsciously to keep alive the memory and relationships of a convict transported to the far side of the world. The tokens' very tangibility both as the voice and one-time personal belonging of a convict makes them unique as a record since most other associated material was produced by the system that caught, tried, jailed, and transported them. In the main these are paper documents – trial records, shipping manifestos, memos, pardons, musters, tickets of leave, but also uniforms, chains and the products of their labour – buildings such as Hyde Park Barracks in Sydney, and other civic projects including road cuttings and bridges all over New South Wales and Tasmania. It is a sad fact that Convict Love tokens remain one of the few classes of items convicts made, or had made, purely of their own volition and as such they are unique in their humanising of a class that the system did its best to dehumanise.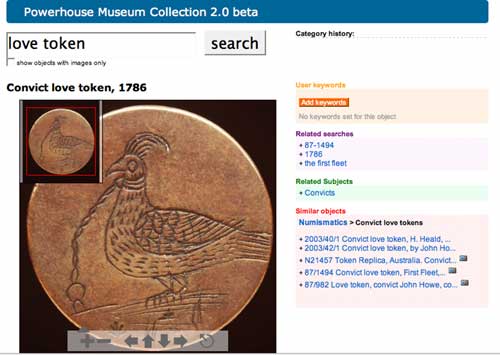 An example of a Convict Loke Token -click on the image to see more.

These are really fascinating artifacts that deal with such difficult issues as imprisonment, colonization, and demhumanization – seemingly key elements of Australian National identity, which, interestingly enough, folksonimic tagging has made accessible to the public in new and important ways.
But, the extent of web-based innovation at the Powerhouse Museum by no means stops there. They have also created a number of blogs that are centered around particular exhibits and events, offering unique spaces for public interaction with the museum. Below is an annotated list of blogs currently running, just click on the image to be taken to the actual blog.
This Powerhouse museum does, indeed, live up to its name when it comes to interactive online tools for their users. The folks at Powerhouse are both forward-looking and acting, to say the very least.