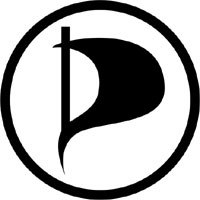 The blog Torrent Freak is a relatively recent favorite of mine. I have read it sporadically for a while, but it seems like things have been heating up as of late in bitTorrent land as the MPAA and other interest groups start to ratchet up their war against bitTorrent (even the porn industry has joined the struggle for capital righteousness now!). Disney and the Porn Industry holding hands as they together fight for what's right –I love that image it brings the real similarities of these seemingly disparate enterprises into sharp focus. Family values my ass!
Anyway, the point I am trying to make is that there seems to be an emergence of political parties know as Pirate Parties that are, according to Ernesto of Torrent Freak in this post, gaining a certain amount of popularity and momentum throughout Europe.
Europe's Pirate Parties are on course with their pan-European electoral assault for the 2009 European Elections. To quote Rick Falkvinge: "There is a far better than average chance that this is becoming the next global political movement, and I'm going to claim it already is the next big political movement."
Full post here.
I can't help but think that this might be the beginning of a more dramatic change to the way in which we understand copyright and digital rights during the 21st century. In fact, this is all oddly reminiscent of those futuristic movies where the corporations control everything and the rebellion is an underground group of rebels or "Freedom Fighters" (not unlike the video game Freedom Fighters, however that features a Brooklyn plumber versus the Red Commie invasion of the USA -I love it!). Are we moving to a point where the struggles of the 21st century will be defined over issues like copyright, digital rights, and more general questions of control and power that are linked more specifically to corporate interests than that of governments, states, and more human (or humane) interests?
Granted, there are arguably much more dire struggles taking place throughout the globe premised on what might seem more fundamental issues, i.e., food, shelter, war, famine, basic human rights, the environment, dignity, a livable wage, etc. –but are these two struggles at all connected? I would argue that the battle against draconian copyright laws and intellectual property taken to its absurd extreme reflects an extremely important element of empire and the means through which culture has itself become a product that is exportable for a profit -which in turn often usurps and undermines local economies throughout the globe. I think the logic of ownership taken to its untenable extreme in the US, has serious implication for corporate foreign policy and its ability to conduct business with governments throughout the world. it is no secret the the MPAA was instrumental in organizing the recent raid against the Pirate Bay, and the implications of corporate America and other financially motivated interests dictating the discussion about copyright and intellectual property throughout the globe is an extremely dangerous precedent–if even by no means novel.
Now, at what point do we understand the intersection of bitTorrent and piracy? For many, the two have become conflated into synonyms. BitTorrent is just another instantiation of peer-2-peer networking, and peer-2-peer networking has always represented a threat to media and entertainment companies around the world because they cut the corporations out of the distribution model. Their control over their products is greatly curtailed and the ability for folks to share media illegally exploded. This is certainly a major issue for media companies and definitely a reason to re-think their economic model given the fact that the can not arrest millions of people- yet re-thinking the way they do business is something they are seemingly loathe to do. Fear and terror has become the modus operandi for organizations like the RIAA and the MPAA, and it is not a huge leap to understand the emergence of these pirate parties as a direct response to their draconian actions.
What further complicates this whole equation, which has become readily apparent recently, is that more and more people are interested in bitTorrent these days (and certain hosting companies and ISPs are doing everything they can to thwart this upsurge) for the simple reason that it is easier to get access to popular media via bitTorrent than it is through traditional models. Fascinating! What happens when the "black market" or the "pirates" or the "underground" (ironically all of these terms reflect an unnameable population of average people -much like the way terrorists and terrorism has been framed under our current state's definitions) can deliver your needs more effectively and efficiently than the media distributors can? Well, you have a general breakdown in traditional distribution channels and heightened sense of the cultural, economic, and social struggles that are taking place in the world of popular media.
Here is a good example, a friend sent me a link yesterday to a C|Net article titled "TV Torrents: When 'piracy' is easier than legal purchase". Here is a quick quote from the article that comes highly recommended:
It's taken some time, but the 'piracy' path has finally gotten to be more user-friendly and easy to use than iTunes and the other pay-services. Miro, a multi-platform RSS and BitTorrent enabled media client is now very stable, polished and fast. Using a tool such as this, and a couple minutes of configuration to subscribe to your favorite shows, it's now possible for users worldwide to wake up to the latest episode of The Daily Show, without paying a penny, or being locked into a restrictive DRM scheme. It's still illegal of course, but that hasn't stopped the millions of file sharers who have made BitTorrent responsible for more than 25% of all Internet traffic.
Twenty-five percent of all internet traffic! Insanity. More than that, the reason why iTunes and other pay services are no longer more efficient has everything to do with corporate ineptitude and greed, the article examines how NBC has abandoned iTunes and made a deal with Amazon's Unbox (which supports Windows users and Tivo -what?!) effectively stranding millions of iPod users, not to mention the always already marginalized Linux geeks. So, rather than making their products more freely available to as many consumers as possible, the media companies are brokering deals that effectively eliminate the majority of its potential customers -is this even rational? Adam Smith where the hell are you?
Even better, this C|Net article offers the readers a how-to for using RSS, Miro and bitTorrent to get your favorite television show quickly, easily, cheaply, and illegally! So, does the fact that this issue is emerging onto the global stage in the form of
political parties surprise any one?
But what about thinking through the "legitimate" uses of bitTorrent? Now that is something that we have seen very little of. In fact, bitTorrent is a far more efficient use of network resources more generally. By sharing bits and pieces of files rather than one static download, you can distribute the downloading amongst hundreds or thousands of different files, allowing users to pull pieces from numerous sources. Might this be a solution to numerous universities network woes? It could be, but given the patina of piracy cast on bitTorrent, it will take a long time before most institutions realize this. Why aren't we bitTorrenting all the unbelievable films available through the Internet Archive. Why isn't the Internet Archive seeding them? How much faster would that notoriously slow site run? I would personally keep those files seeded for a long time for I fully believe it is a public service!
However, despite the general refusal to engage bitTorrent there is at least one university that is thinking through and imagining this technology. Have I told you recently how impressed I am with Harvard University lately? Mike Caulfield (I love that guy!) recently linked to their legal blogging policy, which will aid and abett all the little folks as well. Moreover, they are now taking on bitTorrent with their new peer-2-peer file sharing application Tribler. Torrent Freak led me to this application, and I would highly recommend anyone interested in the economic model Harvard is researching and experimenting with to read the amazing commentary on this Torrent Freak post. I really have to hand it to Harvard, and while I don't necessarily agree with the economic model they are imagining, I do have to say that at least they have decided to imagine the implications of bitTorrent and encourage their campus to experiment with a technology that is without a doubt here to stay for a while, especially since we are increasingly being given fewer and fewer choices.
Update: Colleen Carmean linked to the US Pirate Party page in her post here. Nice find, Carmen, who knew? And I thought this was a only continental phenomenon. I can see the slogan now, IPU, or International Pirates of the World Unite! Where are the Canadians? I'm sure there is a vibrantly dangerous party lurking in our neighbor to the north.