Hey @jimgroom South Pacific with music to help pass the days by. I hear that Italians are singing from their windows to each other. You can blast out #ds106radio to them all!

— Nigel Robertson (@easegill) March 15, 2020
As I listen to Nigel Robertson (@easegill) spinning the tunes from New Zealand while I type these works, I am reminded of how much I love ds106radio—the little radio station Grant Potter propped up in January 2011 to add even more joy to an already ebullient online course experiment. It's been around ever since! And while interest has waned over time, as with most things, if you keep it around long enough* it will come back in fashion—at least for a small community of quarantined web heads! I've been back on the radio the last couple of days, and I will share some specifics around how I am broadcasting on my Mac (as well as archiving), a good mobile app for human-in-the-street casts, and even #vinylcasting for all you crass materialists. But before I get into those details, it might be worth saying I am feeling an exhilaration and connection when opening Twitter that I have not felt in a very long time. While I scan the #ds106radio hashtag I am reminded why I loved that tool so much a decade ago, it was the folks it brought into my life, many of whom have become staples—they have broke bread with my family, greeted me on shores thousands of miles away, and generally brought a huge laugh and a welcome smile when I needed it. And like so many others out there presently, I need that right now. I mean, quite frankly, the last thing in the world I want right now is to be lectured in MOOC-like fashion by ambulance-chasing thought leaders about learning online, I need a master class in loving online!
So, thank you #ds106radio for re-entering my consciousness and reminding me what's at the heart of these connections.
So, how have I been doing it? Let me break it down here quickly, but feel free to reach out in the comments if you need more details or help.
#ds106radio Edtech's Emergency Broadcasting System #canyoudigit

— Hank Soda (@HankSoda) March 13, 2020
For broadcasting on my Mac, which allows me to play music via my laptop as well as pretend to be a Straw Boss with my radio persona, I use Ladiocast, which I believe is only for Macs users, but it's free, so there is that. Grant pointed to mixxx.org, which I might have to explore this week. The key to getting Ladiocast running on your Mac is that you first have to install and wrap your head around Soundflower, which "creates a virtual audio output device that can also act as an input." When I got on the radio in 2018 to play around, I found Alan Levin's post on his most recent Rube Goldberg Broadcast Machine setup worked quite well. In hope this helps, here are my Ladiocast settings for broadcasting:
For all you #ds106radio heads, below are the details of my setup using Ladiocast for streaming. I basically used @cogdog's post here: https://t.co/zBONuQGsJV pic.twitter.com/nIVuW0oVPQ

— Jim Groom (@jimgroom) March 13, 2020
Also, here is the encoding details on #ds106radio pic.twitter.com/CNKNjw8WKa

— Jim Groom (@jimgroom) March 13, 2020
The other piece to this broadcasting was getting Skype fired up and running (you can probably use Google Hangouts, Whereby, Zoom, etc.), but I associate the talk radio on #ds106radio with Skype, so I guess old habits diehard. Here are my settings for getting Skype to broadcast through Ladiocast: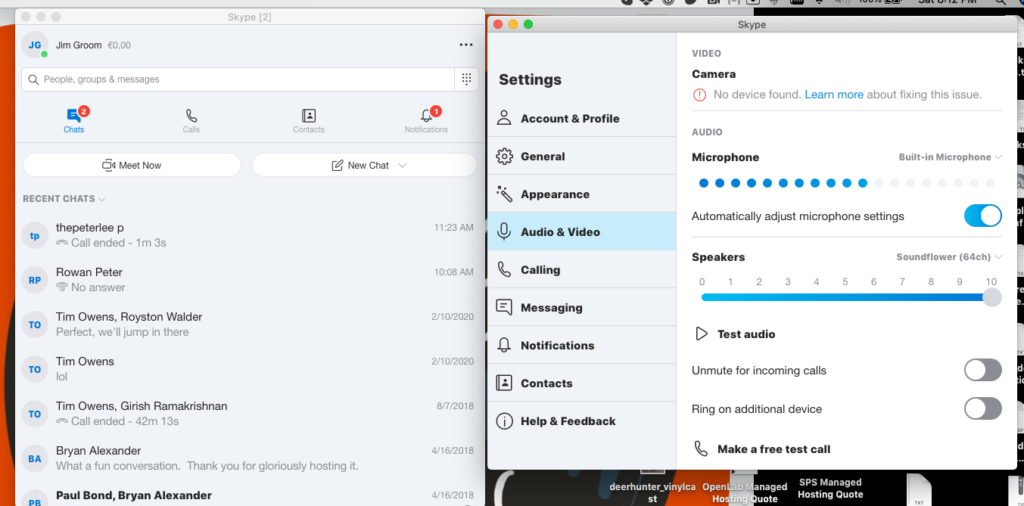 Seems to have worked for Paul Bond, who has been holding down the radio as part of his ds106 course at UMW for years, so power to the Bond!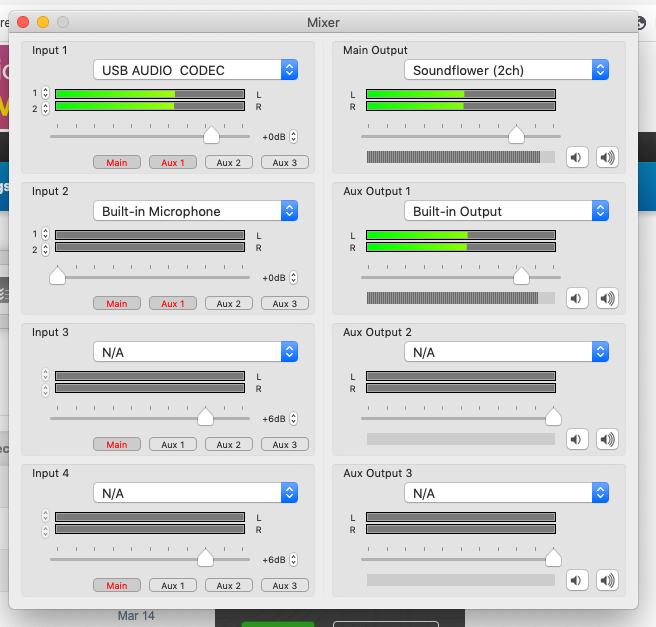 The final piece for my Ladiocast setup is getting Vinyl working. I followed this tutorial for my Audio-Technica turntable with USB output, and turns out it is dead simple. Above is a look at my Ladiocast settings when casting from the Turntable rather than whatever is playing on my computer. I will be doing a #vinylcast today of Deerhunter's Halcyon Digest, as well as discussing my unorthodox approach to vinyl—namely only new 🙂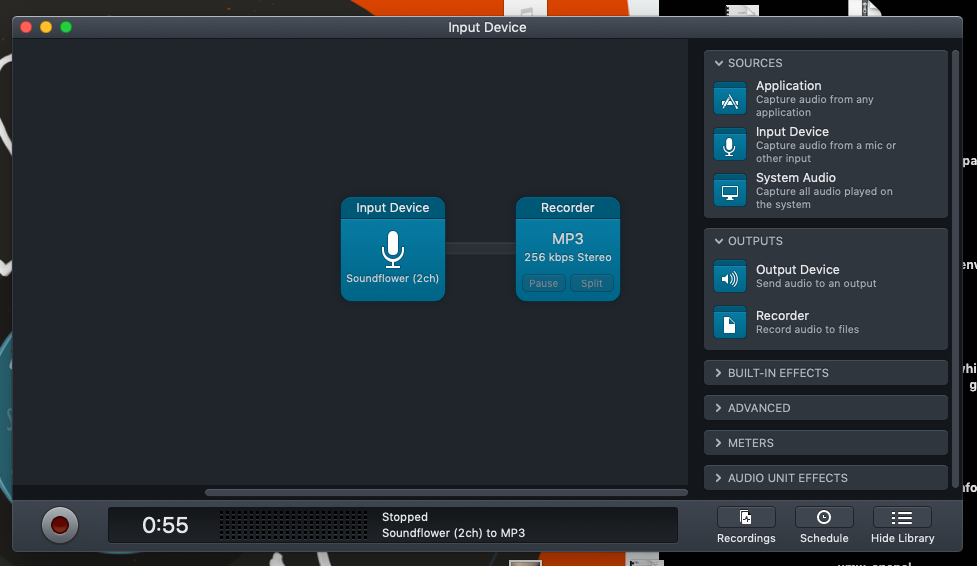 I have also experimented with archiving the stream, and I bought Audio Hijack a couple of years back when experimenting, and that provides me a way to record my output should I start archiving my broadcasts. Audio Hijack has a lot of options, and it is a bit beyond me. It replaced Nicecast, which was retired in 2018, and supposedly it can do all the same things, but it is not all that user-friendly. I may play with it, but frankly given it is relatively expensive ($70), not sure folks will go that route. Not to mention Cogdog highlights the fact you can use Audacity to record anything on the radio, so I may also try that as well.
And other settings #ds106radio pic.twitter.com/HwgggGvdBg

— timmmmyboy (@timmmmyboy) March 14, 2020
Finally, if you are mobile casting from your iPhone from, say, Jamaica, you can also try out the mobile app iziCast that Grant, once again, recommended to Timmmmyboy, and he has been using it to update us on his travel exploits in the time of plague. I downloaded it and had it setup almost instantaneously. It costs $4.99, but it does seem to have archiving built-in as well, just no way we can see to do much more than straight casting from your mic. I know GNA Garcia has an Android setup, which would be useful for many folks, but I heard she generously blog like it is 2006 this year, so who knows!
OK, so I guess that is just about everything I've done to get back up and running on the #ds106radio. I am also remembering another reason I enjoyed ds106radio, it's fun to figure out the rig. I do need a good microphone and headphones, any recommendations radioheads?
---
*Which Grant has done so magnanimously—keeping in character as always.
Header image credit: This Evil Empire