I was reading up on one of my favorite movies, The Terminator ([beginning of insanely long tangent] which I love that Stephen Downes references when re-framing what might otherwise be bulldozed as an unquestionable firing offense of a teacher in this post:
Connecticut Teacher Fired Over Myspace Page – his teacher was fire for having a MySpace page that had "among other things, pictures of naked men with 'inappropriate comments' underneath them." We are not told what the comments were, nor told what the pictures were (perhaps they were of the governor of California in his first shot in Terminator 2). Again, this is a firing for perfectly legal behaviour under the heading of 'nappropriate'.
Having been a English teacher at Clara Barton High School in Brooklyn for a year and a half while that jackass Bloomberg was revitalizing New York City while trying to gut the Union (and he is re-writing the rules to run again–I hate that rich bastard!), his point is very well taken [end long tangent]) I was fascinated that the character Kyle Reese had his own full-blown Wikipedia page. I was even more intrigued when I saw the warning at top of the entry suggesting the article describes a work of fiction "in a primarily in-universe style." What? What the hell does that mean?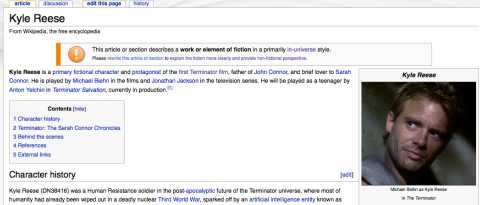 Well, I followed the link, and here is the definition of the in-universe style and the accompanying problems:
The problem with in-universe perspective
An in-universe perspective describes the narrative from the perspective of characters within the fictional universe, treating it as if it were real and ignoring real-world context and sourced analysis. The threshold of what constitutes in-universe writing is making any effort to re-create or uphold the illusion of the original fiction by omitting real-world info.

Many fan wikis and fan websites (see below) take this approach, but it should not be used for Wikipedia articles. An in-universe perspective is inaccurate and misleading, gives undue weight to unimportant information and invites unverifiable original research. Most importantly, in-universe perspective defies community consensus as to what we do not want Wikipedia to be or become.
In fact, it is this in-universe style that really attracts me to Wikipedia. The fact that people frame these works of fiction (as well as objects, events, places, people, etc.) with a kinda of personalized relationship to the subject often makes it that much more powerful. Moreover, the ability to decipher numerous voices within one article is fascinating as well, and kind of suggests a kind of arrival of the multivocal non-fiction (as opposed to Bahktin's focus on fiction) that makes the encyclopedic style a kind of creative non-fiction.