We have been talking for a while about how easy the installation of WordPress (and many other apps) is made by the one-click magic of script installers like Fantastico. However, this didn't solve the problem of uploading themes and plugins to your server (via FTP or CPanel) to augment its functionality. That's why, if you haven't already, give the OneClick plugin for WordPress (which works in tandem with this Firefox extension) a go. It is pretty amazing, and beautifully frames how two awesome open source applications working together can make your life that much easier than they already do separately.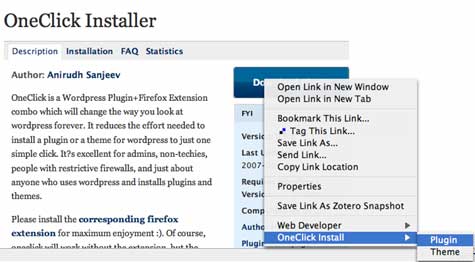 This plugin/add-on has been around for a little while now (since August 2007), and it won the grand prize for best plugin in the WordPress Plugin Competition. I just got around to installing it, and I have to say that this is a really amazing solution for anyone who is not all that comfortable with FTP, or just wants their plugins and themes uploaded as they browse.
The installation is simple, and once you use FTP to install this plugin you may rarely if ever have to use it afterwards, especially useful if you are not so crazy about (or comfortable with) FTP or CPanel's file manager. And even if you are comfortable with these tools, this makes installing plugins and themes a million times easier than an already streamlined process. I found only one "bug report" on the forums which has more to do with a consistent approach to packaging plugins and themes than an actual problem with the OneClick plugin.
This is where I can segue way a bit into one feature of WP 2.3.x that I am really finding helpful: update notifications for new versions of plugins that provide a link to the latest version. This is unbelievably useful for keeping your life simple and your site safe, just quickly scan through your plugins and see which ones need to be updated and hit the link to download the new version.
OK, now marry this idea to the oneclick install discussed above, and you have the One Click Plugin Updater plugin, it is very new and there may be a bug or two yet (I had some trouble running it correctly on a Bluehost server), but it allows you to automatically update each plugin with just one-click.

The work the WordPress community has done to centralize these plugins in one repository is really paying off for the community at large by making more and more of these options a one-click process. What's more, the organization and loose integration of essential "peripherals" like plugins and themes in such a seamless manner speaks to this communities remarkable vitality and forethought.
Case in point, I spent part of this morning looking for MediaWiki extensions, and let me tell you the two communities are like night and day. MediaWiki Meta is an absolute jungle compared to the topiary garden that is WordPress.org.