Given the state of the world that Brian Lamb describes with such profound eloquence in this post, I think it's time to reach into the movie vault and pull out Miracle Mile, a surreal, end-of-the-world love story the whole family can enjoy. To echo something Roger Ebert says in his review of the film back in 1989 here (he is so right on about this film!) it is in many ways the West Coast's answer to Martin Scorsese's After Hours (a classic in its own right). Both are typical boy-meets-girl boy-loses-girl up to a specific point in the narrative, after which a surreal landscape of utterly bizarre events ensues.
Miracle Mile in many ways tops After Hours for me in that it takes on far more than it can handle and pushes the bizarre events to their logical extreme, by cobbling on the prospect of complete annihilation of civilization as we know it. The perfect feel-good love story meets the 1980s nuclear holocaust narrative. All the more poignant given it was made on the very cusp of the break-up of the former Soviet Union and the dissolution of all our fear of the Red Commies.
The movie's action all takes place in the area of Los Angeles known as the Miracle Mile. And, in fact, I lived in that neighborhood during the mid-90s and was a huge fan.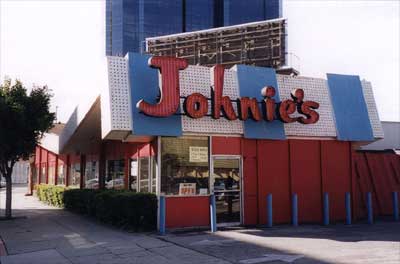 The film does an awesome job of featuring the La Brea Tar Pits (twice), LACMA, the Pan-Pacific Park (former home of the Pan-Pacific Auditorium) and last, but not least, America's most photogenic diner: Johnie's Coffee Shop–an added treat for Big Lebowski fans given it's where Walter assures the Dude he can get him a toe by 3:00 –amateurs! This film is very much a tribute to a great area of an amazing town (much like After Hours is an homage to NYC's SOHO–back when it was worth celebrating mind you) which features very few of the pretensions that for which this metropolis often gets maligned.
Finally, this movie is tied to an entertaining anecdote from my life. After dropping out of George Mason University I decided to head west in the Summer of 1990. I landed in Long Beach, California and worked as a busboy. I had no friends in the beginning and I got to talking to a seemingly normal bag boy at the local Ralph's Supermarket (another Lebowski landmark!). He invited me to watch a movie at his apartment with a few friends and I jumped at the opportunity. Turns out the movie we watched was Miracle Mile, which I had already seen the year before but I liked it and thought it reflected well on this friendly grocery bagger. Well, long story short, as the movie reached its apocalyptic climax he and his two other friends all said stridently in unified rapture, "Thank God I'm saved!"
I was pretty tripped out, all my assumptions proved about as wrong as they possibly could have been. I often come back to this moment because it continually teaches me so much about context, appropriation, and re-using content. I mean who knew Miracle Mile could be understood as propaganda for converting wayward souls by fundamentalist Christians. Can't say it worked in this instance, but it goes a long way to illustrate the hermeneutic minefield that is contemporary culture.
Finally, as an added bonus that will certainly seal the deal if you are still wavering (which I can't possibly imagine you are), Tangerine Dream did the soundtrack. So you certainly won't be let down musically –nothing like a little New Age Krautrock to set the mood for the imminent nuclear apocalypse. As an aside, did you realize Tangerine Dream did the Soundtrack to such 80s classics as Sorcerer, Thief, The Keep, Risky Business, Firestarter, Legend, and Near Dark? I didn't either until I read their Wikipedia entry. Risky Business I was aware of because it is readily apparent (even from the trailer) that Tangerine Dream basically re-purposed that entire soundtrack for Miracle Mile. However, the other films in that list were a pleasant surprise because several of the films are personal favorites, particularly Firestarter, Near Dark, Risky Business, Thief, and Legend. I mean come on, what film critiques the entrepreneurial spirit during the 80s better than Risky Business? Also, I think Near Dark may be the most innovative and unique re-framing of a vampire tale for over a decade up and until Blade.