I was listening to Darcy Norman on PSU's ETS Talk 16 (props to Cole Camplese and company), and something he said really struck home with me. To very loosely paraphrase Darcy: ed tech folks need to concentrate on providing concrete examples of how the fundamental Web 2.0 tools, such as blogs and wikis, can forge compelling online communities for teaching and learning. That's it, Darcy! -relatively simple and all too often overlooked. When working with faculty we need to consider how far we have come with what most would agree is the driving logic behind this new wave of teaching and learning technology: blogs. How compelling have our experiments been? Can we scale them? Are they easy? Do they really enhance teaching and learning?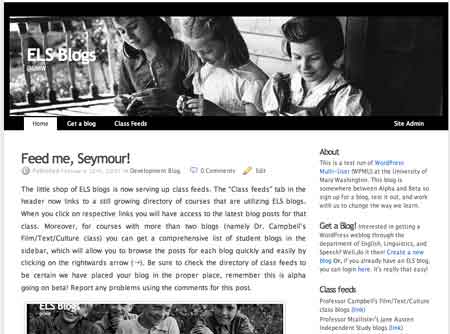 After listening to these sage words, I re-visited a project I have been working on for the past three weeks or so with Gardner Campbell. I am going to scoop him just a little (I've been know!), but all for the greater good of humanity. Gardner and I had tested Lyceum last Summer in an attempt to integrate Multi-user blogging into a couple of courses. We had some success, but he left for the University of Richmond and I started experimenting with wordpress.com. Upon his return, he mentioned that he was interested in playing with WordPress Multi-User for a class or two, and with no further adieu it was setup and the experiment was re-kindled. We installed WPMU 1.0 for the English Linguistics and Speech department and created the ELS Blogs Multi-User space for the department as a test run. His Film/Text/Culture class has been the first to adopt the blogs and boy have they gone ballistic. Including YouTube videos, screen shots, deep and reflective examinations of the texts, and a larger community of sharing and thinking -kinda like the compelling examples Darcy mentions. And while ELS Blogs has not been opened up to the entire ELS department, students started creating blogs for other classes in the space, in particular independent studies -imagining no better space to track their independent work on a topic over the course of a semester. Then it hit me, this is it -between Gardner's unbelievable work with his own class and the unsolicited initiative of a few students, the compelling examples for a larger infrastructure of departmental (or even university-wide) multi-user blogging spaces.
The trick has always been how do we organize the students personal blogs around courses? -for with this model the student is the primary unit of focus and the course a unifying secondary layer, the complete opposite of BlackBoard and their ilk. Well, after being inspired by Darcy's comments I revisited the ELS Blogs space and slapped in two plugins I had already talked about on this blog, BDP RSS and Optimal, in order to feed the students' blogs into a separate course space. You can see an example of these two plugins working to create a class portal of sorts feeding from WPMU here. Wham, bam, thank you WordPress!
The question then arises, can each student have this one blog space for several classes each semester and feed to different course receptacles using category feeds? I think it is possible, and that will be my next experiment. In fact, Gardner had already suggested to me in conversation that each student should have one blog that they use each semester (almost like a five-ring binder), wherein they feed their respective comments, thoughts and ideas for each course using agreed upon tags, or category feeds, or what have you. Well, with WordPress Multi-User and/or Lyceum we are there. And what I love about it all, is that it remains focused on the one fundamental tool: the blog. More particularly, this tool, as it is packaged by WordPress, is a cinch to use and can integrate all the other tools like podcasting and vodcasting seamlessly. I think we are coming real close to those concrete. compelling examples that Darcy mentions and, better yet, they are becoming increasingly more scalable every day.