I have blogged regularly about mapping domains on WordPress Mulit-User for over a year now.  And it is with great pleasure that I announce the first instance of a mapped domain on UMW Blogs (which is actually a mapped subdomain).  UMW's pioneering History department has decided to create a site on UMW Blogs to build an information/community site for their department which will provide the latest news, announcements, and events for current students, alumni, etc. They have a Bluehost account where they do a lot of their own departmental experimentation (http://umwhistory.org), and they—more specifically Sue Fernsebner and Jeff McClurken—wanted to know if we could map a domain to their UMW Blogs site in order to have a URL that is in line with the logic of this space and that doesn't have that pesky word "blogs" in it. Well, if we will it, it is no dream!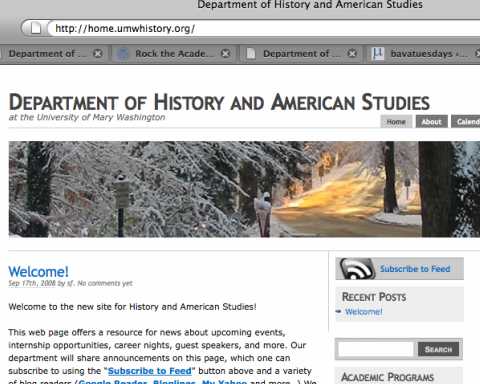 In fact, we really didn't want to map the entire domain umwhistory.org to UMW Blogs because that would throw off all the other sites they have on various subdirectories and subdomains already. So, what we did is created a subdomain ( http://home.umwhistory.org) and just mapped that, which left all the other subdomains and subdirectories on their Bluehost account unaffected. And voila, UMW Blogs can allow people to buy (or is it lease?) their own domains and map them to their own blog space.
For me, this realizes one of the most powerful elements of a publishing platform like UMW Blogs: it re-enforces that this space is the wide-open web, not some insular, monolithic campus CMS or LMS. This feature opens up the conception and perception of UMW Blogs as the open web to some great degree; it makes people feel like the space is truly their own and that they are out there framing their own work. On top of that, they can take advantage of all of UMW Blogs's innumerable plugins and themes, while allowing them to capitalize on our first rate service 🙂 And all this without having to worry about doing their own upgrades or backups. And with their own domain name they can frame their own professional portfolio, website or blog on UMW Blogs, and should they ever need or want to export their site to another service (or even get their own web hosting account) the transition would prove that much more seamless. Mapping domains is the acknowledgment that the work people are doing in this community is their own, and the technological infrastructure should be flexible, robust, and easy enough to enable anyone who wants to control their online identities do it in the most effective and intelligent way possible. We are affording them one way to both build and preserve their personal archive of intellectual work, and we need to see the technology we choose as an extension of such an act of good faith!
OK, so how do you do it? It's remarkably easy, first go download and install Donncha's Domain Mapping plugin on your WPMu setup. (For server admins: to make it easy on yourself, change the documentroot line in httpd.conf to the directory where you have WPMu installed, that way any domain that points to your IP address will by default point to your WPMu installation, making the sign up process for your users seamless, and any work on your end minimal at best.) After that, I simply called up Bluehost and asked them to add a CNAME for the subdomain http://home.umwhistory.org and point it at the IP address for UMW Blogs. They had it done in less than a minute, the whole thing was really a cinch. (For more about this read the FAQ on Domain Mapping at WordPress.com.)