Mario A. Núñez Molina did some research on Universities that are using WordPress Multi-User in this post. There are at least ten colleges and universities on that list that I wasn't aware of before reading the post. Something that is extremely exciting for me, because there are far more universities experimenting with WPMu than I originally thought -though not nearly enough.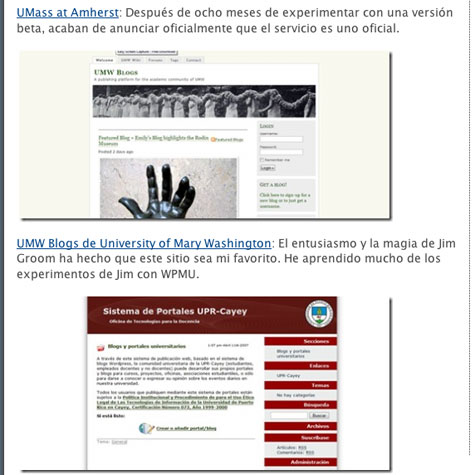 Mario even Features my favorite WPMU blog installation 🙂
If you don't read Mario's blog, you really should. Not only is he as prolific as they come, but he has his pulse on the world of education and technology like few other blogs do. Nonetheless, he really doesn't need anyone promoting his blog for him because his readership seems far more extensive than most other EdTech blogs I read on a regular basis written in English. Which raises a question for me: how important is it to starting reading blogs from other cultures written in other languages. I have gotten so many resources, tips, and possibilities from tapping into Mario's blog, which has opened me up to a whole other world of Educational Blogging that I would have not had access to otherwise. And while my Spanish and Italian are worse than rough, when I saw all the cool things that they are doing I was immediately driven to see the innovations happening on a broader international stage than just Canada, the US, Britain, and Australia. In fact, I have been using my rusty language skills more than ever before.
In fact, at the Open Education conference I met a great guy and absolute EdTech maverick (thanks you Brian for introducing us) in Pedro Pernías Peco from University of Alicante in Spain. Pedro is hot on the trail of EduGlu and is doing and unbelievable job with making RSS do his bidding, if you haven't heard his talk from Open Ed 2007 here, be sure to check out his awesome slides as well.
Excuse my necessary digression and now back to my original post idea, I have at least four more schools to add to Mario's WPMu list:
Otis College of Art and Design is one of my personal favorites. Sue Mayberry has done an unbelievable job at Otis and needs to be applauded. The policy and the documentation is wonderfully done. And, as with most things from Otis, it looks so good!
University of Alicante, Spain (Pedro showed me the link for this, and it is beautifully integrated into their homemade LMS, but I can't find it currently -maybe Pedro will send the link?)
Bryn Mawr College (thanks to the trailblazing work of Laura Blankenship)
University of Buffalo (They are almost using WPMu as an departmental blogging/CMS space -interesting stuff)
University of Calgary (in Clandestine Alpha thanks to D'Arcy Norman, but making real headway as I understand)
Keene State University has recently introduced WPMu into their learning environment, thanks to the inimitable Mike Caulfield. Expect much more from these folks.
University of British Columbia (unconfirmed, but from what I understand they may be taking the jump)
The University of Richmond has some WPMu action stewing in the pot, it may have been recently released, though I don't have a URL for this one just yet. Any help?
Update: The College of William and Mary is now running WPMu, and these cool cats are even hosting it externally, very cool! I just wish they would open up the comments on the front page so I could tell them as much.
So, between Mario's list and mine, are we ready to have an informal, distributed meet up to start talking about what we're doing with WPMU in the educational realm? And perhaps in more than one language…
Hey, we might even have a panel at Northern Voice 2008…