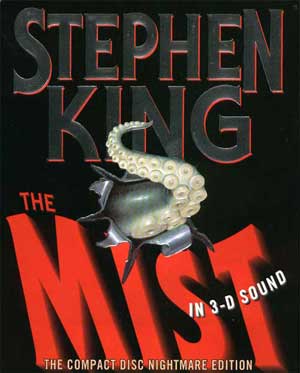 I can't resist a Stepehen King film adaptation, it is one of my great weaknesses and has accounted for many wasted hours in my life. I had already voiced my excitement about Frank Darabont's film adaptation of Stephen King's novella The Mist, which was a particularly special for me because it was one of my favorite King stories, which says a lot because I think he has written some great shorter stuff in the 70s and early 80s. So after seeing The Mist last week, I was planning on letting it go and sparing everyone but Anto my rant. At least until Scott Leslie's comment here brought up an interesting trend in recent movies that is really beginning to annoy me, in directly providing the occasion to vent I was looking secretly looking for
And while in the end I had major issues with the adaptation, the first hour and a half of the movie was pretty enjoyable. It was a relatively solid b-movie adaptation of the story with sub-par acting, under-developed characters, and a solid monster plot to make it engaging. I liked the scene in the back of the grocery store when the bag boy gets ripped apart by the horrific tentacled monster. I also enjoyed the whole idea of people hauntingly disappearing into the mist never to be seen again, or the huge bugs on the plate glass windows of the grocery store, or even the factions that emerge amongst the terrified refugees of the grocery store. And while underwhelmed by the scene where a band of heroes brave it to the pharmacy-cum-spider-lair next door to the grocery to get medicine for an injured compatriot, I still watched it greedily. All these scenes invoked the vivid pictures in my mind I had drawn twenty some-odd years ago when I first read the story (though by no means more powerful as Kubrick's version of The Shining proved to be).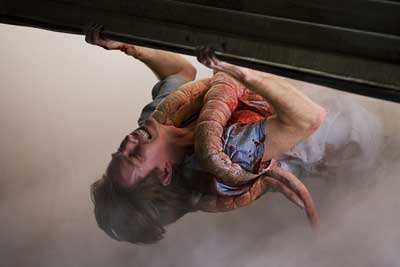 So what's my problem and what the hell does Scott Leslie's comment have to do with any of this? Good question, I'm getting to that. My problem is that the film was doing a pretty good job of knowing its limitations and reflecting a solid, but by no means great, b-quality adaptation of a very good pulp horror story. I wouldn't write home about the adaptation, but I might have recommend it to like-minded maniacs. At least up and until the last five minutes of the film, which absolutely drove me crazy. If you are familiar with the novella, you might recall that King outlines some potential endings for this apocalyptic monster tale through his main character of his story:
But you mustn't expect some neat conclusion. There is no And they escaped from the mist ino the good sunshine of a new day; or When we awoke the National Guard had finally arrived; or even the old standby: it was all a dream.

It is, I suppose, what my father always frowningly called "an Alfred Hitchcock ending," by which he meant a conclusion in ambiguity that allowed the reader or viewer to make up his own mind about how things ended. My father had nothing but contempt for such stories, saying they were "cheap shots." (pg 132 of the First edition of Skeleton Crew -which I own 🙂 )
And, in fact, that is how the story ends, in a certain amount of gray ambiguity, very much in line with the imaginative power of the story. The very questions of what happened with the Arrowhead Project to create such monstrosities, as well as the characters quick regression into fear and violence marked moments of strange uncertainty and troubling ambiguity that worked powerfully on my imagination decades ago.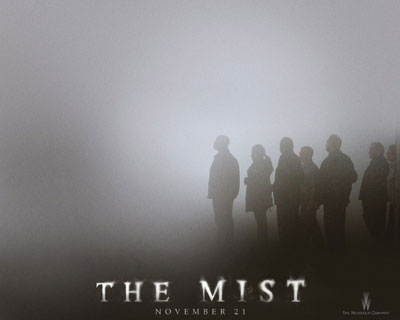 So much so, that when I first read Benito Cereno in undergrad The Mist was the first story I thought about during Melville's magical gray-filled opening garnished with the impenetrable fog weighing down on the reader like a dew-filled mist of uncertainty and misapprehension, all of which beautifully frames that underlying themes throughout the narrative. And while King is admittedly no Melville for descriptive power, allegory, and literary allusion, I do think the comparison marks a shared sense of craft between the two which values the powerful realm of the readers imagination.
Darabont's version of The Mist goes explicitly out of its way to break this rule in an attempt to invoke the "hopeless horror that is life" for some cheap allegory about the current War in Iraq, a trend in Hollywood as of late. And because they need to fill up the special features on DVD nowadays, there are two versions of the ending available for this film —as if one wasn't bad enough. They both suck, but the version they actually decided on makes my point that much clearer, take a look:
Original ending:
Alternate ending:
What both of these endings illustrate is the terrible realization on the part of the filmmaker that his confused political commentary—lacking all subtlety–has failed. And rather than writing it off as a lost cause given the lack of any art, the final scene becomes a hammer with which to assault the viewer with the message, in this case how much this story is in fact "an allegory" for the War in Iraq. The final minute features a wide shot of a war torn landscape, replete with Desert Storm Hummers, military transports for refugees, imposing tanks, flame throwers, all which tries to suggest what exactly? That the war in Iraq is horrible? Thanks for that obvious public service announcement! That the military lies and is bad? Hmmm, about as facile as saying they're good and honest. That you, the viewer, are an idiot and need to be punched in the face with a point because they dislike you so vehemently? I guess the latter works best.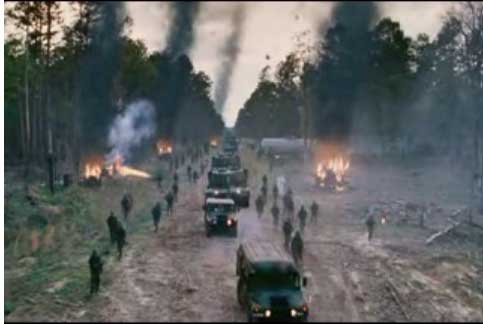 So not only does the original ending feature one of the most unnecessary moments of desperation that has the main character murdering everyone in the car because there "is no hope," only to realize the National Guard has arrived and is gaining the upper hand in the war against the monsters. But it is all too late, right? He is a tragic figure that reflects the horror of our moment, right? But why? Why are these filmmakers, like with No Country for Old Men, so transfixed with the lack of hope and promise? Which finally brings me to Scott Leslie's point in the comment that I'll reproduce here:
I'm not arguing that it's a film *about* the war in Iraq, but I had the distinct sense while watching the film that its makers were painfully aware of not just the war but larger global concerns, that its bleakness was, if not a reaction to, somehow influenced by.
The fact that these films are reacting with in the cultural moment, and our predominant filmic response is "all hope is lost" makes me kind of cringe, and wonder how much, for me, is what rings so cheap about both these films, though obviously different for their technical artistry, they each seem hollow as larger commentaries on our "historical moment." They are too caught up in being relevant and timely, making them terribly forced and disingenuous. And this isn't to say it hasn't been done effectively in the past, just thing of films like High Noon, Dr. Strangelove, Night of the Living Dead, and the list goes on and on.
I prefer the ending of the actual story far more:
I'm going to bed now. But first I'm going to kiss my son and whisper two words in his ear. Against the dreams that might come, you know.

Two words that sound a lot alike.

One of them is Hartford.

The other is hope.