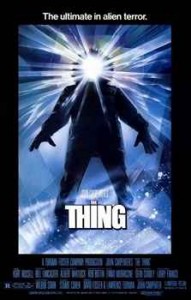 Back to the lost formative ten. John Carpenter's The Thing (1982) has consistently been in my top three movies of all time since I first saw it. A masterpiece on many levels, and in fact there are two Carpenter films in my formative ten, and both of them center around his ability to create the most compelling situational horror/scifi/action films. Not only does he play with genres brilliantly, but what's cooler than having Manhattan Island turned into a high security prison or a group of researchers in Antarctica discovering a shape-shifting alien? Such plot lines make his early films among the best of all time in my mind.
But, I'm gonna hold off on my reflections in this post, because Scott Leslie recently sent me a link to a documentary on John Carpenter's career,  John Carpenter: Fear is Just the Beginning…the Man and his Movies (freely available on Google Videos), that contains a ten minute clip which does an excellent job of framing the importance of this film and contextualizing its moment. The documentary focuses on a controversy surrounding The Thing that I was previously unaware of. In short, this film was Carpenter's first big budget project and upon its theatrical release it was critically slammed, designating Carpenter as the "pornographer of graphic violence." According to the documentary, such criticism scarred Carpenter so deeply that it changed the direction of his subsequent career (arguably for the worse if you look at his earlier work versus his later). Here is a link to the ten minute section of the documentary that talks specifically about the controversy surrounding The Thing. Fascinating stuff, I always found the difference between his first five films and all his subsequent work to represent a radical divide in vision and quality, and perhaps this might provide one theory as to why.
And, as an homage to Carpenter's masterpiece (which is far better than the Howard Hawkes Hawkes' original in my opinion), here is the classic scene where MacReady tries to distinguish the real people from the things as told by Legos. Enjoy!