As an update, turns out Zoom will work better than Jitsi in this instance, and I explain why in this follow-up post here.
I spent a bit of time this afternoon getting my rig setup for the KaraOERke event that will be part of ALT's Summer Summit at the end of August. We Tim Owens did the KaraOERke event for OER20 in April and I guess it went over well enough for them to ask us back. But to ensure we won't be asked yet again, I decided to take the reins on this go-round 🙂
Online Karaoke is a blast, and a few people outside the conference also wanted us to do this on the regular during lockdown. We were considering it, but the push for Reclaim Cloud made it hard to do just about anything else. But now that the Cloud's officially launched, we have a bit more time to play again. I jumped at the opportunity to run it this time around for ALT because a) they rule; b) online karaoke rules; and c) now that I have fiber I think I can run the whole thing more seamlessly. But I'm still leaning on Tim, in fact just before I went on vacation last week I got some tips from him and today I finally got the time to give it a shot. Below are some half-baked notes on how I did it. I will document this further given it's a first pass, but the initial feedback from Alex Master's was promising:
Yeah it was seamless my end, looked and sounded great, even the mic distortion when you hit peak scream was dialled in ? (important serious note: whatever video codec you're using is spot on because there's absolutely no lag when using bluetooth headphones).

— Alex Masters (@alexmasters) August 4, 2020
Here are the tools I used:
Jitsi for video conferencing;
Loopback to mix together and route audio sources;
and YouTube for the karaoke videos.
Jitsi is my preferred video conferencing tool, and it's where folks will go to actually karaoke. The link to the room will be private and/or password protected to ensure no unexpected, potty-mouthed visitors. Here's the link to the general guidelines for folks Karaoking that Tim wrote-up and I slightly modified it for this event. Folks will sign-up for there song on that Google Doc, and then I will queue up in Jitsi as their turn comes up. I may have Martin Hawksey help me manage some of that wrangling of folks behind the scenes, Tim made it look easy at OER20, but have a sense there are a few moving parts.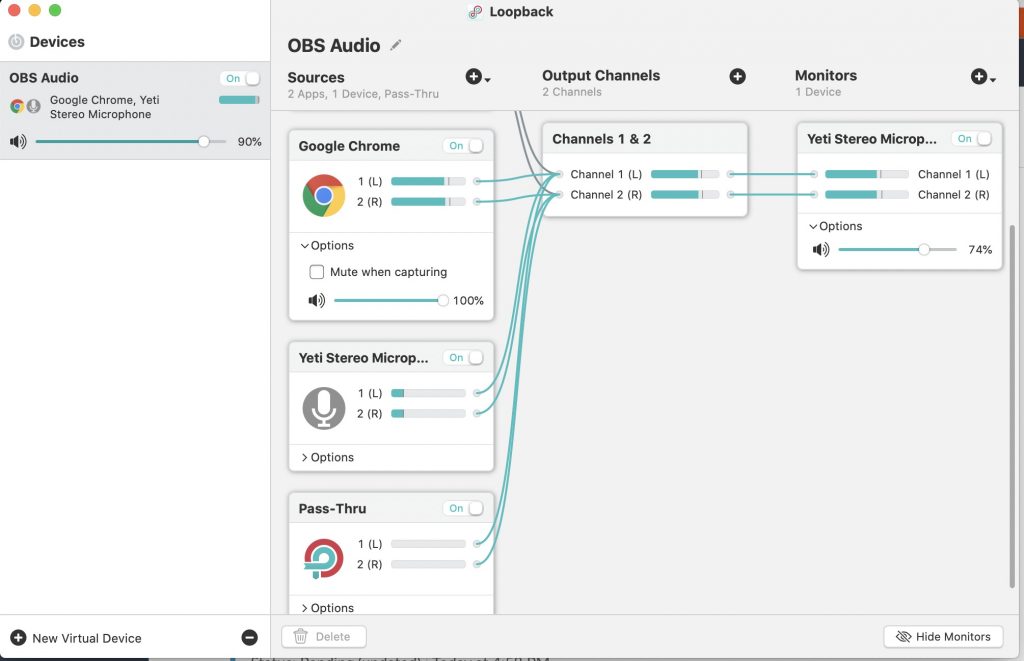 So, an important element when getting your video conferencing tools setup is making sure you have a virtual audio setup through a tool like Loopback that will allow the person singing to hear the music on the Youtube video.* As pictured above, Loopback routes and mixes audio from my Mic and Google's Chrome browser into it's own virutal output that I have titled OBS Audio. This will allow folks to hear both my mic as well as anything coming through Chrome, which is where the YouTube video with the lyrics and background music will be playing. In order to ensure anyone in Jitsi can hear the video I need to make sure the Output (Speakers) audio is using the Loopback virtual audio feed called OBS Audio: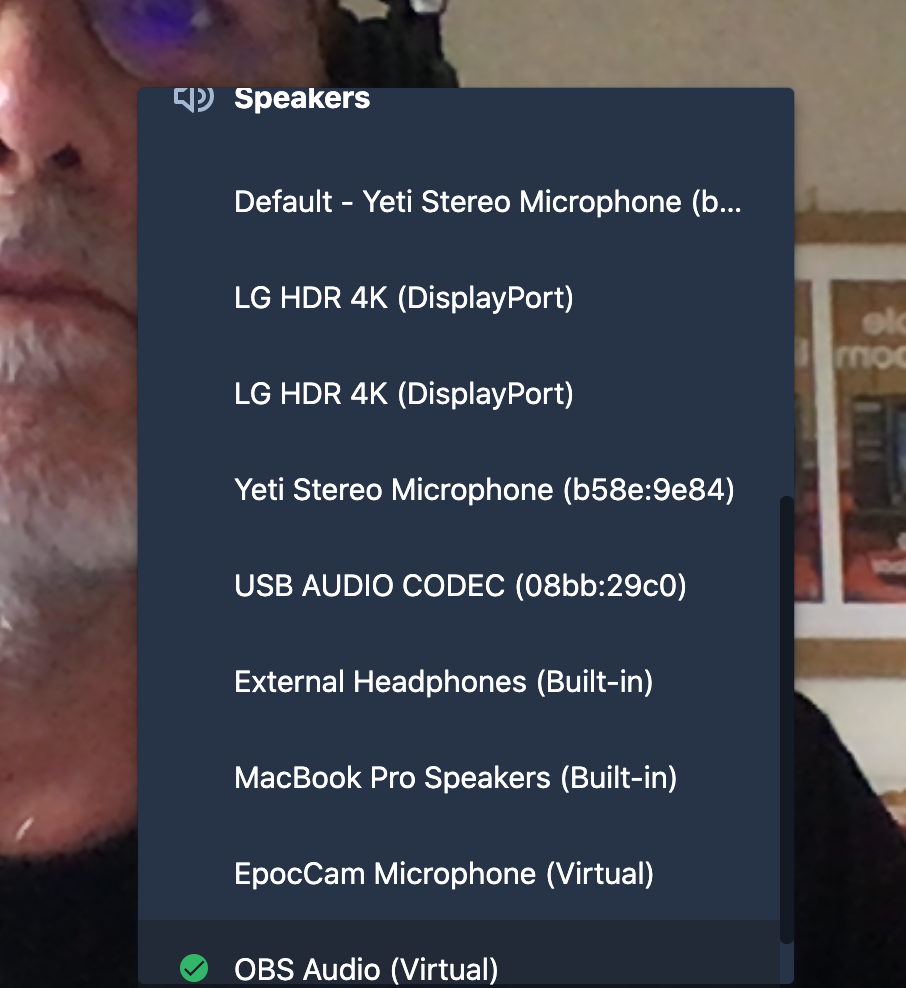 I can also use the OBS Virtual Input for my Microphone given it is part of the virtual feed, but I have to test that when I have someone else on the Jitsi meet instance—so more to come on this bit.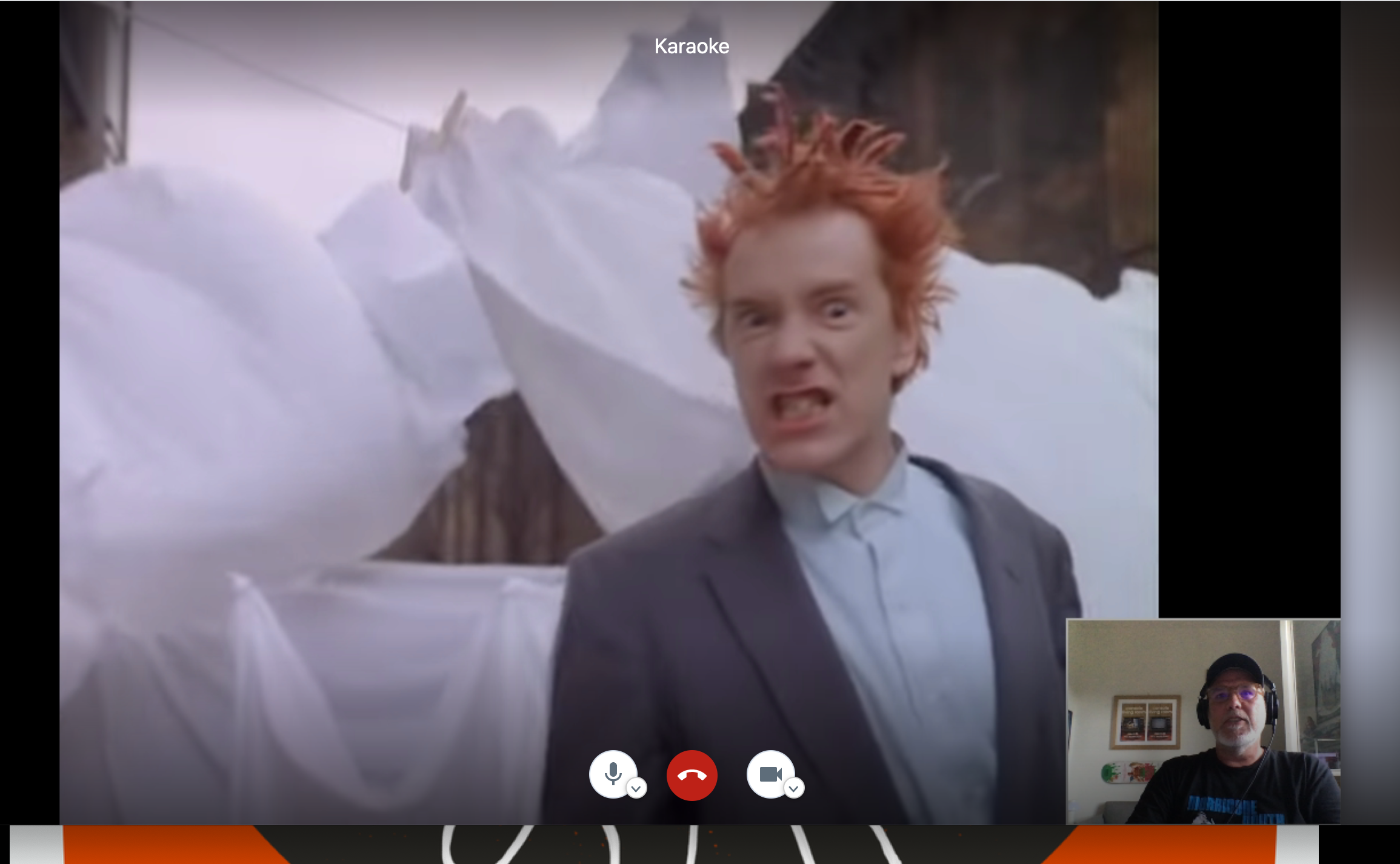 Now to pull in the Youtube video using the Share screen tab, which creates a very clean look. The above example is just a music video from PiL, but imagine it as a Youtube video with Karaoke lyrics and the video box to the lower-right featuring the Karaoke participant. Kinda like this:
Now, with OBS we can create the Jitsi tab as its own shot. Which, to simplify things, I will be making its own scene called Monitor 1. This scene has the #ds106tv lower third text, the OBS Audio input from Loopback, and the Laptop Display of Monitor 1 (you'll notice the Laptop Webcam is turned off as a source given Jitsi is doing that for me).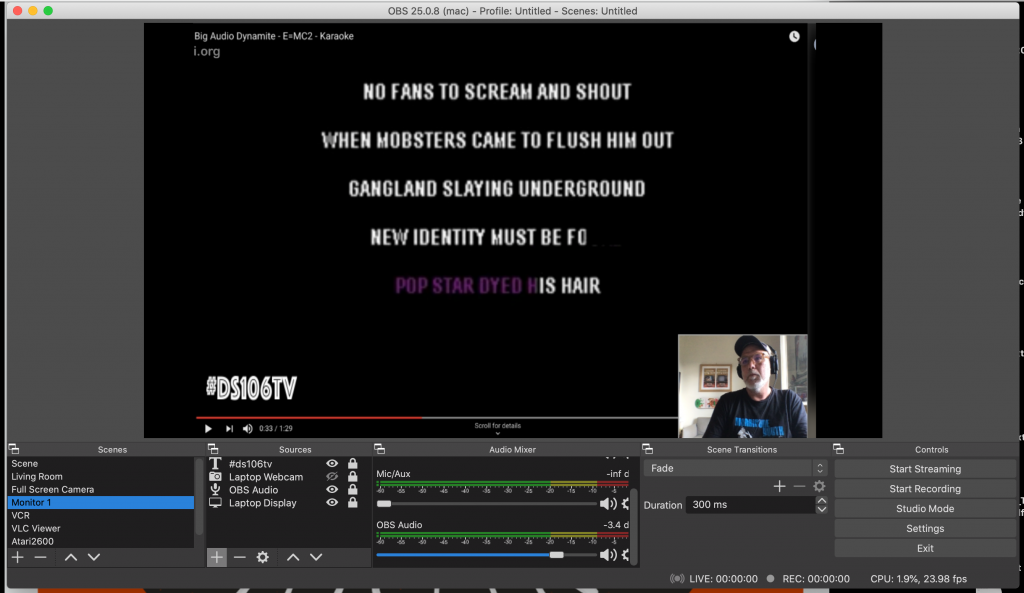 I also have a full screen scene in OBS for when I want to cut away from the karaoke and get things set for the next song. This scene has three sources: the Laptop Webcam, the OBS Audio from Loopback, and the #ds106tv lower third.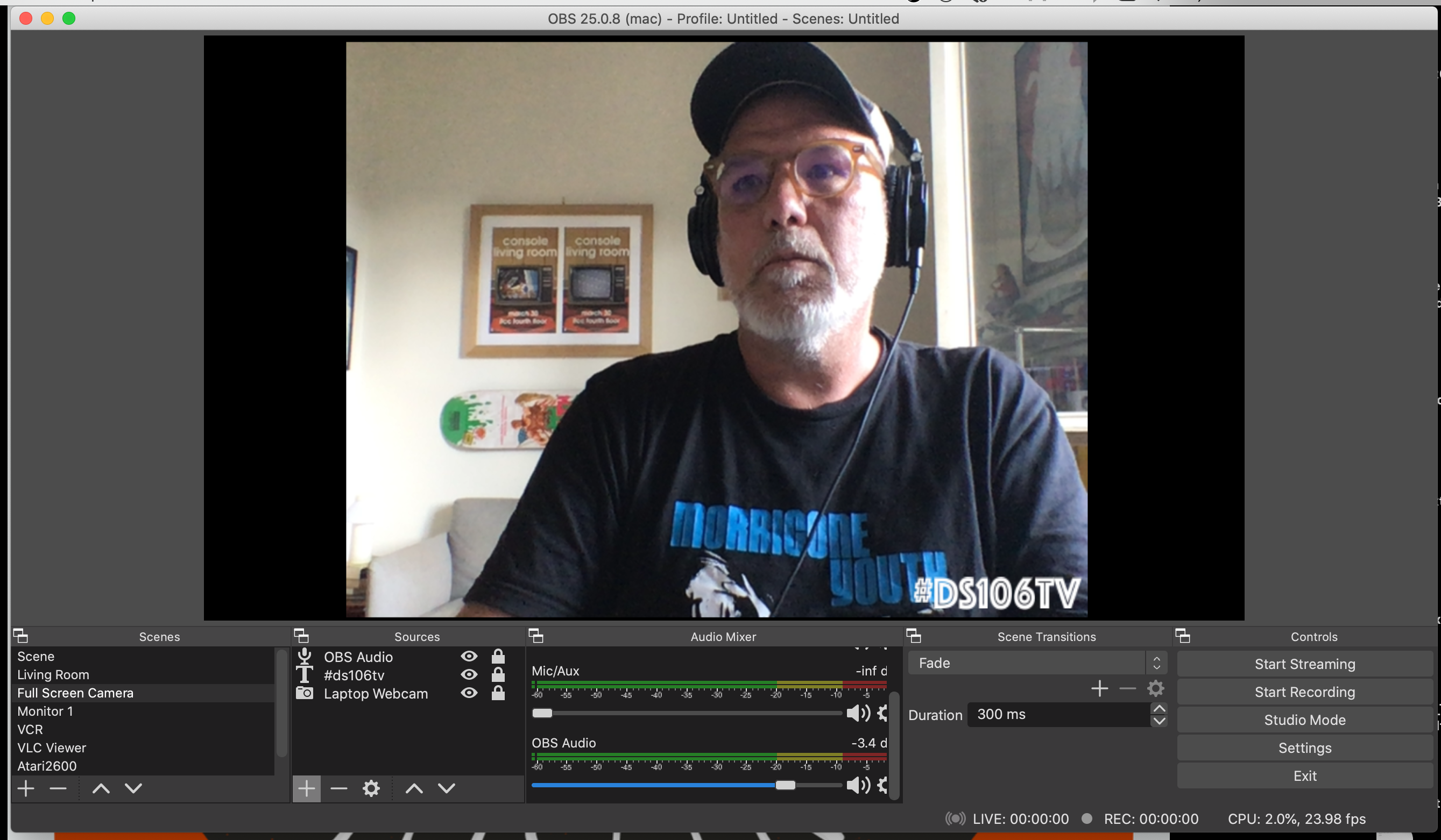 I created a third scene in OBS called Living Room which is a 1980s Living Room scene, this also has several of the same sources such as OBS Audio from Loopback, #ds106tv lower third, my webcam (video capture device) in the space of the OG TV, and finally there's a background image of the UMW Console Living Room that creates the illusion of depth.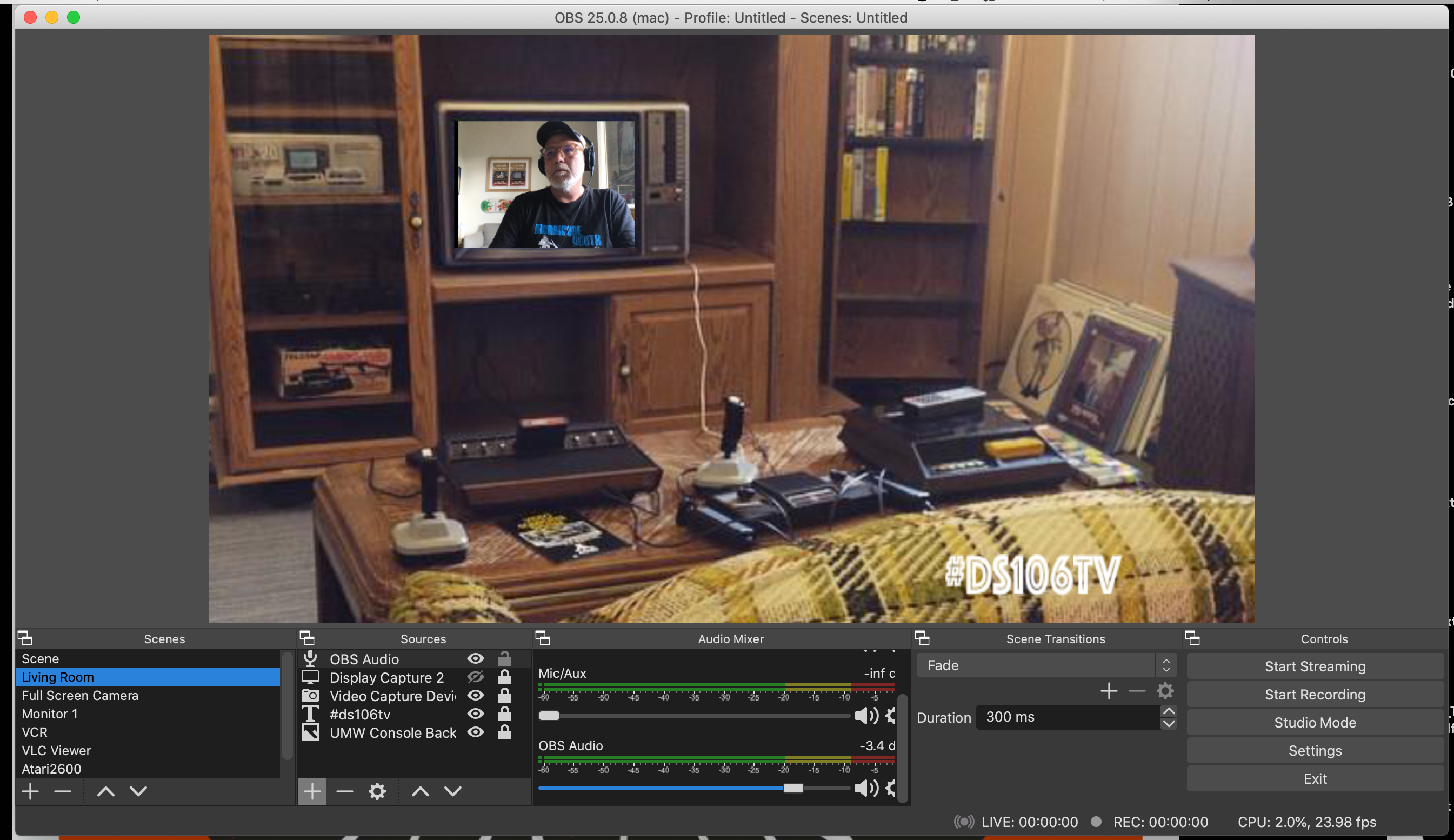 I know I am glossing over OBS and how to set these scenes up, but these notes would be even more unreadable if I tried to discuss setting up scenes and sources, so take a look at this intro tutorial Tim did a few months back for more on OBS.
So, we now have Jitsi setup to manage the karaoke lyrics video and the video of the participant. Loopback brings the audio into Jitsi so the participant can hear the video they will be singing along to. Moving to OBS, you can create multiple shots with various display captures and source inputs that make the whole process more seamless, just make sure the audio input is consistent across all scenes. Once you have that setup, OBS is also the tool you would use to stream it out on the web, for me that would be  ds106.tv. But it could just as well be Twitch, YouTube, Twitter, IGTV, etc.
I am at the office right now so how about we try tomorrow? I am available from 4 pm. Just let me know. I would go with "Against all odds"

— Chahira Nouira (@CosmoCat) August 4, 2020
I'll be testing this out with Chahira singing Against All Odds tomorrow at 5 Pm CET, so come check it out. I will also be trying to cross cast to #ds106radio because I can!
______________________________
*I did note that Jitsi has a Youtube viewer built-in that might take care of sharing audio for any other participants without routing audio, but I will have to test that theory.