The D.I.Y. Lego Karl Marx (Image courtesy of Dunechaser)
So while I am waiting for my very own copy of Karl Marx's Capital, Volume 1 to arrive in the mail, I figured I 'd get to work (in the spirit of Frank Sobotka) on some ideas I have been playing around with for a while now. In short, how might you quickly create a syndicated framework for a a wide variety of loosely joined discussions around a course like the one David Harvey is offering up here? My first question when I initially saw this amazing resource was how would you capture the various traces of discussion surrounding these readings that might galvanize a intellectual community of ideas, activism, and critiques?
I originally thought opening up comments on the actual blog where the videos are being published might be one way, but it occurred to me that it kind of centralizes the discussion around one resource, begging for a kind of interaction with professor Harvey that is not only unlikely, but impractical. Think of all the open resources out their right now, they come pre-packaged in iTunesU or some other anemic, branded delivery system that gives you the resource, but fails to actually frame any kind of community around the space. Learning does not happen within a tube of consumption, but rather through a series of relations within a community of engaged and excited thinkers.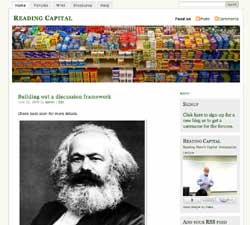 This being the case, I figured I would take yet another stab at framing a space where discussion around a resource like this one can be easily traced, engaged, captured, and archived in a manner as distributed or centralized as one likes. So I started creating Reading Capital this weekend (an independent discussion space for David Harvey's course) that is first and foremost a proto-type of the syndicated architecture that a bunch of folks have been thinking about for a number of years now. I really don't expect anyone to use this site extensively (though anyone is free to, and that would obviously be fun), rather I see it more as a space to kind of fine tune the thinking and technical process I have been going through so I can finally accomplish a few of things I have been meaning to do:
There has been a lot of talk about Do-It-Yourself educational technology, and I figured an occasion like this would give some of us the opportunity to really think about the possibilities and limitations of such a model. There is always a lot of theoretical talk about what we do or do not need, but I find a project like this helps me focus on praxis, a marriage of the technical details of what is currently possible, with the larger vision of what makes more sense and allows us to truly frame a distributed community for thinking, learning, and sharing together beyond the boundaries of any given classroom, institution, or geographically determined reality.
Focus on explaining and documenting my thought process when creating a discussion hub like this using freely available, open source tools. In many ways it is working on the same model as UMW Blogs, but I have included some additional features like allowing anyone to add their blog's RSS feed (or whatever other kind of site you are using that has syndication), anyone can signup for a blog, discussion forums, a wiki, and a twitter-like discussion space that I'm calling Discourse–that is simp;ly a theme that anyone could reproduce on this site or WordPress.com.
Keeping my own skills in developing these spaces honed. Ever since UMW Blogs went live last Summer, the whole thing ran so smoothly I found I was spending a good amount of time shepherding communities on that site more than playing with the actual technologies. Which, by the way, is a more rewarding and effective use of my time. Nonetheless, I like thinking of the Summer as an opportunity to get a bit deeper into the general hacking of these open source applications to see what they can and cannot do.
All that said, the site is still under construction. I will be finishing up the details over the next week, and will be providing in-depth documentation for using each element of the space. Also,there will be four more blog posts in rapid succession detailing the different, RSS-rich features of this syndicated framework, and why I choose to include them, and what they might provide in the way of discussion. I have to freely admit the site is overkill, but in many ways I needed that along with some honest critiques and discussion about this model so that we can keeping examining the possibilities without getting to mired down in the details.